#0217


Fodor's Forums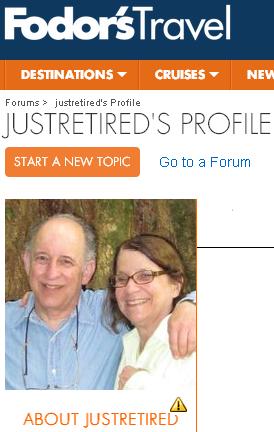 Since 2003, Margie and I have been using the Fodor's Travel Talk Forums to help plan our vacation travel. According to Wikipedia, "Fodor's is the world's largest publisher of English language travel and tourism information, and the first relatively professional producer of travel guidebooks. Fodor's Travel and Fodors.com are divisions of Random House, Inc."
To the left, you can see the top of our Fodor's "Profile Page" (minus a banner ad, which I cut out). If you click on that link, you'll see that there's more on our profile page than I've shown. It was Margie who signed us up for the Fodor's site, and since I had just retired, the screen name "justretired" occurred to her.
As soon as she told me the name she had used, I noted that it wasn't a very good choice. After all, with the passage of time, I would clearly at some point be no longer just retired. But we didn't change it, and now, ten years later, we have no desire to cut ourselves off from all our past postings under that name.
So "justretired" we are, and "justretired" we'll remain. Both of us post on the site under the same screen name.
I should note that the Forums are only one part of the much larger fodors.com website, which provides a large number of travel related services. But this blog entry is specifically about our use of the Fodor's Travel Talk Forums. On the Forum, other posters sometimes shorten our screen name, and refer to us as "Just", or "JR". As a group, we call ourselves "Fodorites".
As you can see from the Travel Talk Forums home page, there are a number of different forums for the discussion of different geographical areas: Africa & the Middle East, Asia, Australia & the Pacific, Canada, Caribbean, Europe, Mexico & Central America, South America, and the United States. There are also separate forums to discuss Air Travel and Cruises, and a forum devoted to Travel Tips & Trip Ideas. Yet another forum, "Forums Help", allows users to ask for help with the forums themselves. Fodor's representatives monitor that one in particular to answer questions, but in fact they moderate all the forums, to remove objectionable material, and keep a civil tone.
Whenever we're planning a vacation, step one is to search the Fodor's Forums for information that's already been posted about areas we may possibly want to visit. As we narrow down the possibilities, we ask questions, and get opinions and recommendations from other travelers who have been to those areas, and we always receive useful advice from many experienced travelers. They're very generous with their time, and invariably helpful. Once we've decided on our destination, we get advice on sites to visit, places to stay, where to dine, and a host of other things. Sometimes, the posters helping us actually live in the areas we are planning to visit.
In return, we monitor the Forums from time to time, and try to assist others who have posted questions, if we have specific knowledge that may be helpful. Also, after every trip, we post a "Trip Report". These are Forum postings which are specifically identified as Trip Reports, which others can read to find out how your trip went. As on all on-line Forums, a sequential series of comments by various posters is called a "thread". The poster who starts a thread is called the "OP", for "Original Poster".
These days, I carry a computer with me when I travel. First it was a full-size laptop, but I later lightened my load by switching to a smaller computer called a netbook. Eventually, I further reduced what I carry to my smart phone, which is still a powerful computer. It's a Samsung Galaxy S III. Pixel for pixel, its screen is actually larger than that of the netbook, although it's substantially smaller in area. I augment the phone with a Bluetooth keyboard and a pair of magnifying lenses. I wrote all about this in a previous blog entry called Computers on the road.
Having a computer with me facilitates recording what we do each day in a diary, kept as a file in the computer. This then makes it easier to write a trip report when we return. It does make for a Trip Report which can be rather long and wordy, but actually Fodorites seem to appreciate that (they can always skim through the report if it's got too much detail). Although photos can't be directly included in Forum postings, it's easy to put a photo up on any one of a number of web sites, and to then post a link to it.
Occasionally, Fodorites plan get-togethers, in order to meet each other in person (in the Forums, "Get-together" is abbreviated "GTG"). We've attended a few of these, thereby attaching a face and an actual name to some of the screen names we've come to know. And we've occasionally met people overseas with whom we connected originally on a Forum. Our 2006 Trip Report on The Dolomites described how we connected in northern Italy with another Fodorite couple. And in 2011, we similarly met a Fodorite couple during our stay in the Dordogne, based in Sarlat.
From time to time, Fodor's has extracted things I've written in my Trip Reports, usually a comment on some restaurant or lodging, and quoted me in one of their printed guidebooks. Whenever they've done this, they've offered to send me a copy of the book I'm quoted in, or another guidebook of my choice. This has added free Fodor's guides to Italy, Greece, and New York City to our travel bookshelf.
Why don't I turn my trip reports into blog entries? So far, I haven't blogged much about our travels. That's partly because while we enjoy our trips very much, they're really pretty tame (unlike the trips taken by our children to exotic, often third-world countries). I don't think the details of our travel would be of much interest to most people, other than readers of the Fodor's Forum who might be planning their own travel to the same places.
I don't even have *TRAVEL as a keyword on my blog's Keyword list. I have reported on a few travel experience that I thought to be especially interesting:
After posting on the Fodor's Forum for a couple of years, I discovered that my posts didn't have to appear just in plain text. I found out, I think by experiment, that postings could include certain commands in HTML ("HyperText Markup Language"), a computer language used to create web pages. This allowed me to better format my postings, by putting section titles in bold, using italics for emphasis or for foreign words, and so on.
When you write something to go on a forum, it's processed by Fodor's software before being posted. I experimented with adding HTML "tags" to my text, and thus learned what the Fodor's software would and would not accept. I thought that other Fodor's posters might be interested, so I created a web page summarizing what I had learned. I then posted links to it on various forums.
I got the impression that the Fodor's administrators were a bit concerned about this. I think they were afraid that lots of users fooling around with HTML might expose weaknesses in their system. But it held up well, and it turned out that users didn't abuse their new-found formatting power. If Fodor's had asked me to take the page down, I would have done so. I love the Forum, and I certainly wasn't out to cause them any trouble.
As those who frequented the Travel Forums got to know each other, it became common for threads that started off relating to some travel issue to veer in a direction that was not at all travel related. Talk of dishes eaten in overseas restaurants would morph into a discussion of recipes. Talk of sites visited would turn to a discussion of books whose plot took place in that location.
Years ago, the Fodor's administrators noticed this, and created a separate forum called the Fodorite Lounge, to be used for such non-travel-related conversations. But after a while, I gather that it became an administrative headache, being a bit more prone to "flame wars" and other, shall we say, heated conversations. Thus recently, Fodor's announced that they intended to close the Lounge.
This produced rather an uproar, so in the end, Fodor's decided to allow users already on the lounge to keep using it, but they stopped allowing it to accept new users. Thus when I log in as "justretired", and look at the list of Forums, I see "Fodorite Lounge" as one of my choices. But if you were not a Fodor's user who used the Lounge before the cutoff date, you will not see the Lounge listed at all.
Margie is an avid denizen of the Lounge, and has lots of friends there, most of whom we've never met. There was a GTG ("Get-together, remember?) in Boston a few years ago that comprised mostly people from the Lounge, so we have met some Lounge denizens. Margie follows several book groups and food threads on the Lounge. Fodorites on the Lounge have discussed many highly personal issues, such as medical problems and the loss of family members.
The Lounge is a microcosm of life - its posters are of various ages, religions, and political bent. They're located in various parts of the world, and although all postings are in English, there are posters for whom it's not their first language. They have nothing in common except that at some point in their lives, they loved to travel (some can no longer do so). I'm sure there are many on-line forums available, but the Fodorite Lounge is where Margie ended up.
The Lounge is another reason we can't change our Fodor's screen name. If we started using a new account under a different name, we wouldn't be able to get onto the Lounge with it. So in the year 2033, when I'm 91 years old, and will have been retired for 30 years, I'll still be posting as "justretired". That is, if I live that long, and still have enough money left to afford a computer.
We've met a great many wonderful people on the Fodor's Travel Talk Forums, and their help has immensely improved our travel experiences.
---
Links to our travel reports, posted as Fodor's Trip Reports and by other means
Here are links to posted information on trips we have taken, as of this blog entry on February 13, 2014. The trips are in reverse-chronological order (most recent at the top). In each case, a "Fodor's" link takes you to a Fodor's Forum thread I started (if it's in italics, it's marked by Fodor's as a Trip Report). Some of those not in italics really should be Trip Reports, but for some reason didn't get marked as such. If you take a look at one or more of these, you'll notice that they contain not only our Trip Report, but also various comments made (and questions asked) by other posters.
A "Web page" link below takes you to a web page I've created that belongs to my "old" (pre-blog) web pages, usually with a selection of photos. A "Photos" link takes you to a photo album on Shutterfly, a commercial photo website. These albums generally have more photos and less text.
ITALY, SEPTEMBER 2012 Trip Report: Sicily: Fodor's
FRANCE, 2011 Trip Report: Dordogne, based in Sarlat: Fodor's
SPAIN, SEPTEMBER 2010 Trip Report: Madrid, San Sebastian, Salamanca, Segovia: Fodor's
COSTA RICA, FEBRUARY, 2010 Wild Planet Adventures tour: Fodor's Photos
FRANCE, SEPTEMBER, 2009
Trip report: Languedoc, Gorges du Tarn, Arles Web page Fodor's
Visit to Jean-Marc and Kristin Espinasse in southern France Web page
MEXICO, MARCH, 2009 Trip report: Club Med, Cancún Fodor's
ITALY, OCTOBER, 2008 Trip report - Italy (Montepulciano/Lucca) Fodor's
FRANCE, SEPTEMBER, 2007 Trip report: three weeks in Bonnieux (Provence) Fodor's
MEXICO, FEBRUARY, 2007 Trip report: Akumal and Cozumel, Mexico Fodor's
ITALY, MAY–JUNE, 2006 Lakes district, Dolomites, Venice, and Milan Photos Fodor's
Each section of the above report, at the end, provides a link to the next section. But if you want to go to them directly, the separate sections are at:
Trip report: The Lakes District Fodor's
Trip report: The Dolomites Fodor's
Trip report: Venice Fodor's
Trip report: Milan (Milano), and some final thoughts Fodor's
FRANCE, SEPTEMBER–OCTOBER, 2004
On the road in Lyon, Ecole des Trois Ponts, & Provence (initial report) Fodor's
Trip Report: Lyon, Roanne, Ecole des Trois Ponts, Provence Web page Fodor's
SPAIN, NOVEMBER, 2003 Trip Report, Madrid and Andalucía Fodor's
FRANCE, MISCELLANEOUS My page of tips on driving in France: Web page
Deciphering French menus (Patricia Wells glossary) Fodor's
The Friendly French Fodor's

#0217
Next in blog
Blog home
Help
Next in memoirs
Blog index
Numeric index
Memoirs index
Alphabetic index
© 2014 Lawrence J. Krakauer Click here to send me e-mail.
Originally posted February 13, 2014