#0089


Allons enfants de la patrie ...

I post new blog entries each Thursday, and today happens to be Thursday, July 14, 2011. The Fourteenth of July is "Bastille Day", commemorating the taking of the Bastille prison in Paris, considered to be the start of the French Revolution. It's a big holiday in France, the equivalent of the American "Fourth of July", which commemorates the signing of the Declaration of Independance.

Since July 14th won't fall on a Thursday again until 2016, I thought I ought to celebrate it in my blog. Hence the title, Allons enfants de la patrie ..., which is the first line of "La Marseillaise", the French national anthem.

Never ones to miss a party, and as Francophiles, Margie and I try to celebrate the Fourteenth of July every year. This year, we had a great time at a dinner arranged by Cindy Edelman, Margie's French teacher, and owner of French in Acton.

The fourteenth is celebrated in France with parades in pretty much every city and village. The largest is in Paris, of course, and I attended it in 1961. But the best Bastille Day parade I ever attended was on my honeymoon at the Club Med ("Club Méditerranée") in Martinique, in 1970.

Martinique is actually a part of France - a French "département" (sort of like a state of the United States). And every Club Med resort is like a small village. The executive is called the "chef de village", that is, the village chief. And so, like every other village in France, the Club Med in Martinique had a Fourteenth of July parade.

The parade was a parody of all the parades held in small provincial French villages, and after the parade in the morning, the feasting and drinking and carousing went on for the rest of the day. Although in 1970, Club guests payed for alcoholic beverages with necklaces of pop-beads we wore around our necks, on the Fourteenth of July, glasses of rum-laden Planter's Punch were free, and passed around liberally.

A boat with a half dozen local citizens came by just to watch the crazy Club Med staff and guests carrying on. One of the staff members swam out with a tray of Planter's Punch (doing the sidestroke, and holding the tray above the swells), and passed them out to the occupants of the boat. After drinking up, they rinsed the glasses in the sea, and returned them.

Some of the events of the morning are shown in the photographs below.

Note: all photos can be clicked to see a larger version

In some browsers, you can then click the image to enlarge it even more

Then use your browser's "Back" button to return

The village policeman, with his "police dog" keeps order

as the parade forms up. (Note his bare feet)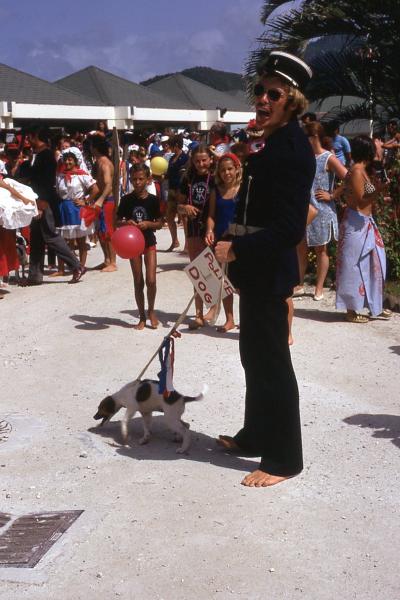 The parade gathers
The rooster is the symbol of France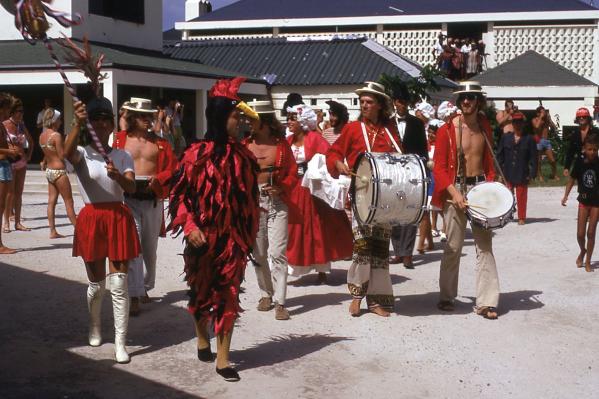 More parade participants
in French blue, white, and red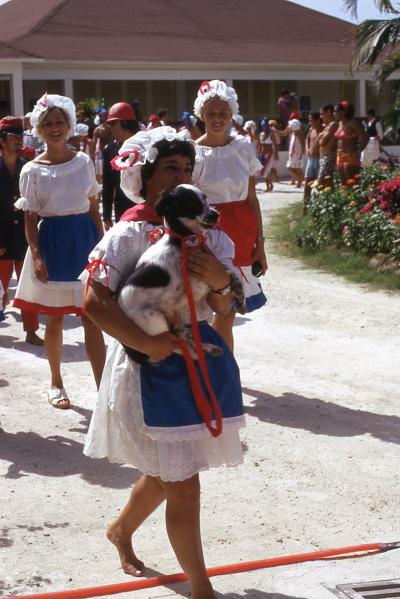 The parade marches through the village streets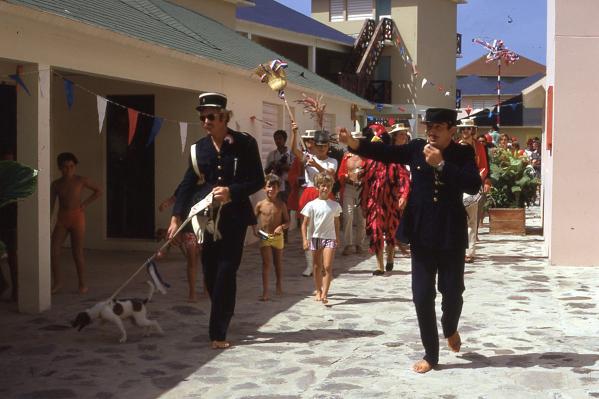 The village priest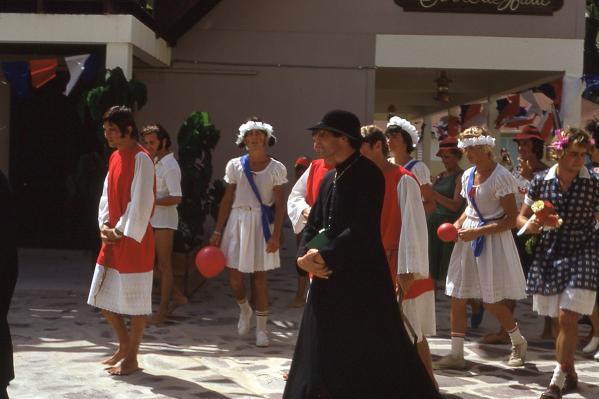 More parade participants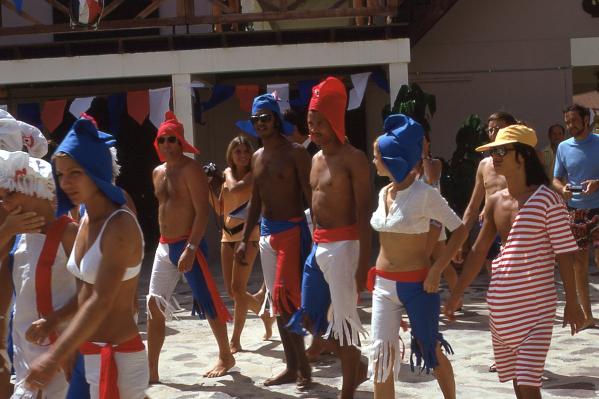 The village undertaker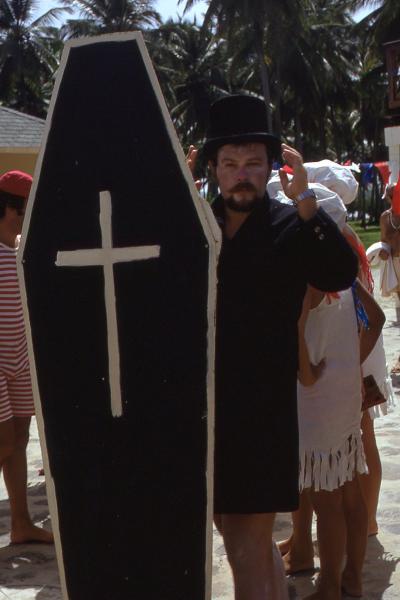 The village prostitutes use the occasion to drum up business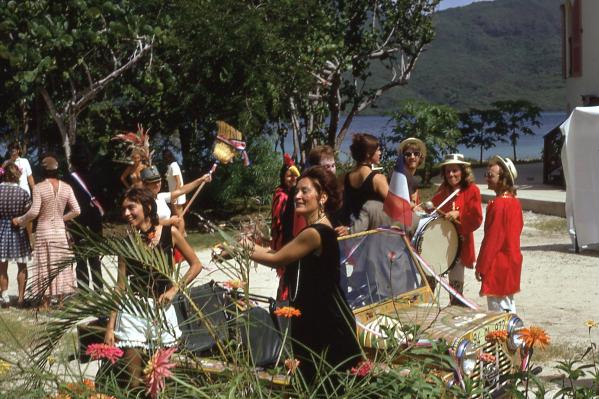 The Café du Port
with the second floor decorated for the occasion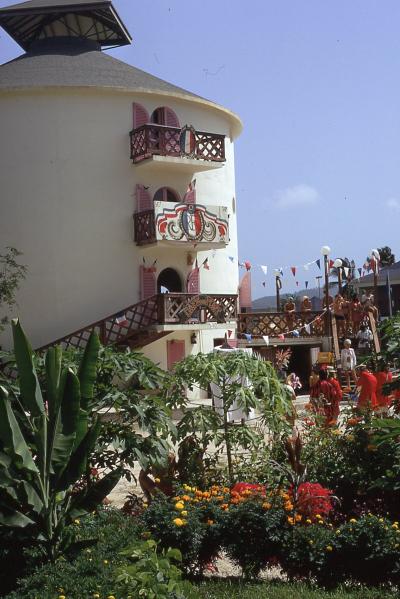 The "mayor" (the Chef du Village) delivers a speech from the balcony
The mayor began with the words "Je serai bref" ("I shall be brief")
He then unrolled the text of his speech, which dropped from the balcony down to the ground.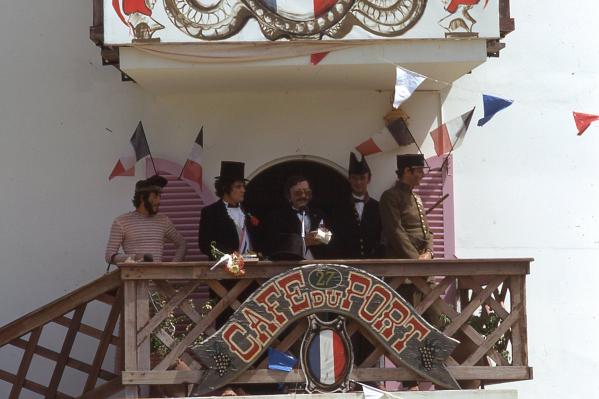 The pompous speech was to dedicate a new building for the village, seen below.
When the drapes were removed, it proved to be a "pissoir" - a public urinal.
Inscribed on it were the words "Défense d'uriner" ("No peeing")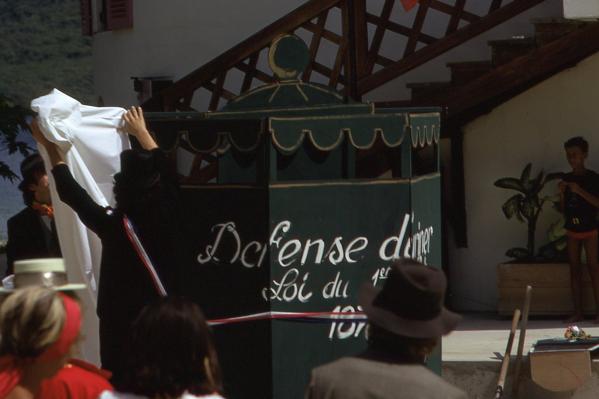 When the mayor's speech ended, it was lunch time - and what a lunch!
Below: the staff starts to bring in the feast.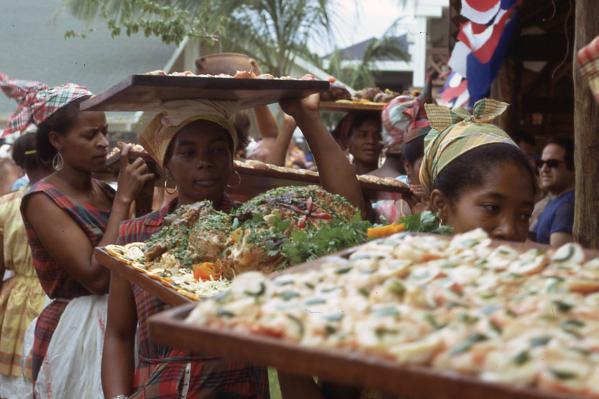 Some happy dead ducks,
and loafs of paté decorated to show what they were made of.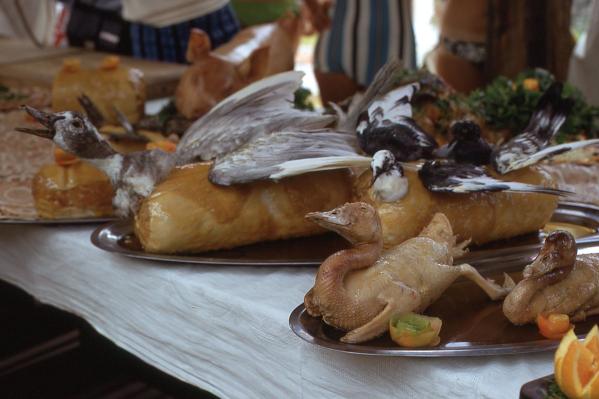 A "tree" of langouste lobsters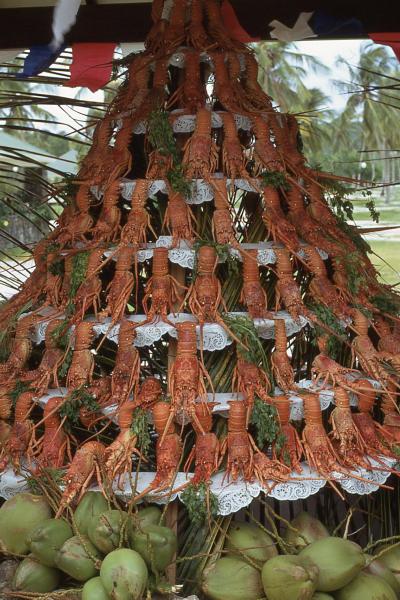 The centerpiece of four piglets
Upon later being sliced, they proved to have been boned
and stuffed with paté in a fleur-de-lis pattern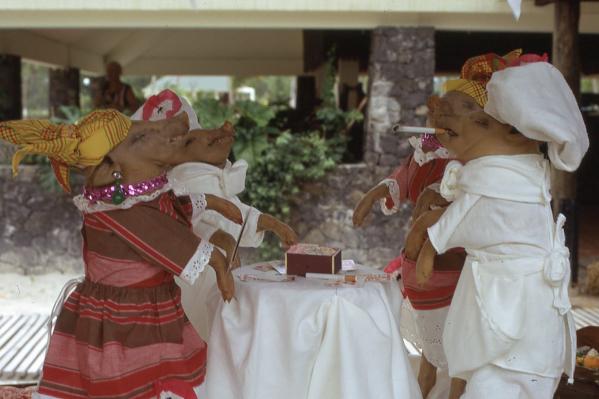 The fruit and coconut boat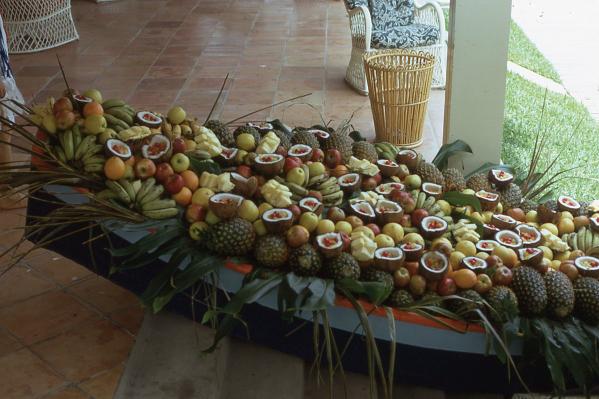 Some of the desserts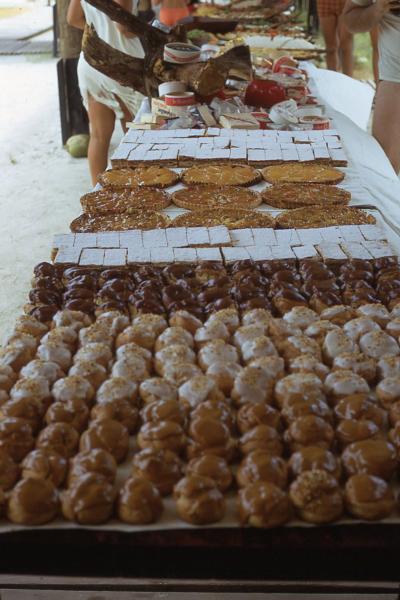 Margie enjoys the feast.
Not shown: the staggering number of Planter's Punches we were fed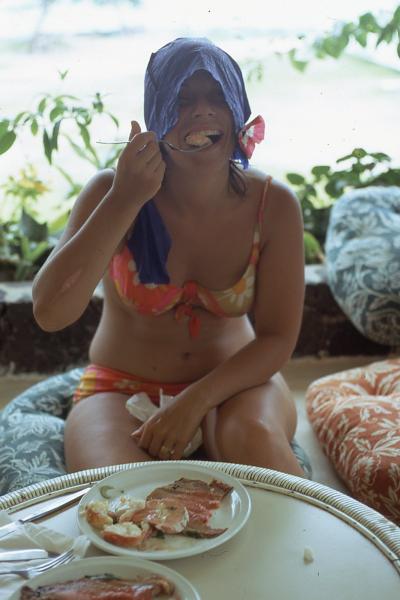 Despite having learned to drink at Syracuse University,
Margie had a bit of trouble with the quantity of alcohol we consumed on this occasion.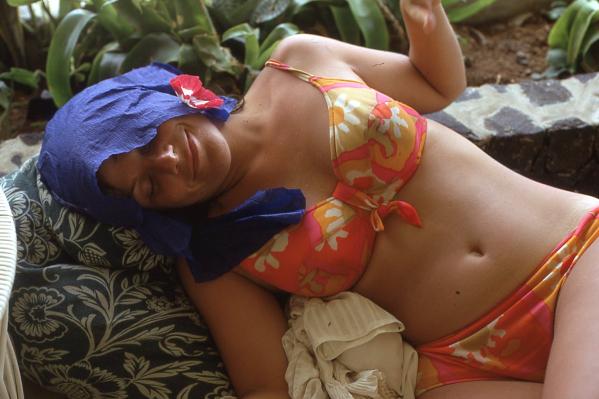 I took care of her as she took a short break.
But we recovered soon enough to party through the rest of the day.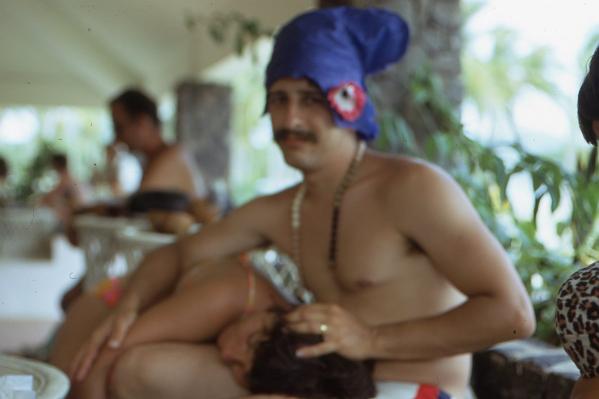 I hope you had a happy Fourteenth of July!
(The flight back from our honeymoon was described in my earlier blog entry Air Chance.)

#0089 *FAMILY2 *FRENCH
Next in blog
Blog home
Help
Next in memoirs
Blog index
Numeric index
Memoirs index
Alphabetic index
© 2011 Lawrence J. Krakauer Click here to send me e-mail.
Originally posted July 14, 2011