Language study at the Ecole des Trois Ponts
Roanne, France (Fall, 2004)
"The world is a book, and those who do not travel, read only a page." - St. Augustine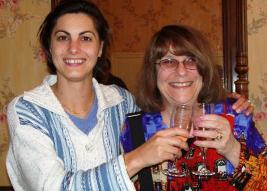 Margie (on the right) with her teacher Valérie
at the end-of-week "graduation" celebration.
In late September, 2004, my wife Margie and I spent a week studying French at the Ecole des Trois Ponts, in Roanne, France.  We had a great time, and we both made substantial progress in our study of French. Click one of the links below for ...
... a report on our experiences at the school

... some of the photographs we took

... the location of Roanne, and how you get there

... the school's web page: French courses in France
---
If you want to send me mail, click here
Click here to go to Larry Krakauer's home page
This page was last updated November 19, 2009