Trip report: Languedoc, Gorges du Tarn, Arles
This is a trip report on our two-week trip to eastern Languedoc, Les Gorges du Tarn, and Arles in September, 2009. Caution: the bulk of this report goes day-by-day, and gets a little wordy. A section with additional details about our rental car, cellphones, and GPS unit ("Global Positioning System") has been added at the end, followed by some conclusions.
The travelers
We are Margie and Larry, a couple in our mid sixties, from the Boston (Massachusetts, USA) area. This report was written by Larry, originally for the Fodor's Forum (see the link at the end of this report). Margie and I both post on the Forum under the screen name "justretired", a name selected by Margie when I retired about six years ago. I pointed out that at some point the name would become obsolete, but up to now we've stuck with it. While hardly a native speaker, I speak French pretty well, and Margie speaks it at an intermediate level.
We got a lot of advice in advance of the trip on the Fodor's Forum, and on SlowTrav.com. We're grateful for the help we got from Fodors posters "cigalechanta" and "St. Cirq", and the information we received from "StuDudley". Margie put together a restaurant list from these and other sources, which she sorted by town for rapid access. If you'd like to see it or download a copy, go to http://LJKrakauer.com/docs/travel/. Select "LanguedocRest02.doc".
Periodically, we'd eat in or pass by a restaurant in which, Margie noted, Stu Dudley had eaten a birthday dinner. After a while, I began to realize that: 1: Stu Dudley gets around a lot, and 2: Stu Dudley has had quite a few birthdays.
The trip, day by day: Getting there
As I've already warned you, this portion of the report goes day-by-day, and gets a little wordy. Hey, you can always just skim it for portions of interest.
Tuesday 9/8/09: We left our house to catch a Logan express bus to the airport at 2:30PM, EDT
Wednesday 9/9/09: Our American Airlines flight left and arrived on time. We took the TGV ("Très Grand Vitesse" train) to Montpellier, and drove our rental car to Montblanc, arriving around 3:30PM CEST. Hence our total time in transit was around 19 hours.
We've gotten pretty good at negotiating the TGV by now. I've commented in a Fodor's Forum thread about the things you have to watch out for - for example, looking at the monitor that tells you where to stand so that your car stops right in front of you. That posting can be found here. Nevertheless, I still made an error. We were seated in Voiture (car) 7, seats 83 and 84. Having determined the proper "répère" (mark), I carefully observed the little LCD display on the side of the car to be sure I got into car 7. But at the top of the half-spiral stairs, I didn't look carefully at the sign above, and turned the wrong way, accidentally crossing into car 6 without realizing that I had done so. There, we put our luggage into a storage rack, and sat down in seats 83 and 84.
This was fine until we stopped somewhere, and a couple got on who had our seats. At that point, we discovered we were in the wrong car. No big deal, we just walked to the proper car. Since our bags were in a rack near the end of car 6 that was adjacent to car 7, we didn't bother to move them.
Once in Montpellier, the car rental area was a short walk from the station, and we picked up our car without a hitch. We used our Garmin Nüvi 650 GPS to help us navigate to our first stop, Montblanc (Herault), in Languedoc. The maps of Europe are on an SD memory card that plugs into the GPS unit.
There had been some discussion on the forum of difficulty getting out of Montpellier, but we had no problem at all. Perhaps this was due to the help provided by the GPS. But we were also headed west, and the TGV train station is on the western side of Montpellier, not very far from the highway.
One slight glitch: the GPS didn't accept the street name of our destination (it didn't seem to know that name). We simply entered the name of another nearby street, taken from an area map I had printed from Mappy before departure.
Languedoc
At the B&B La Maison Rose, we met our hosts Greg and Penny Hannaford, and their children Lawrence ("Loz") and Eloise. They are British, so we spoke with them mostly in English. We also met their friend André, with whom we spoke almost exclusively in French. After a short nap, we had dinner with them that evening. The house has an attractive garden and pool, and all the meals we had there, breakfasts and dinners, were eaten outdoors at a large table.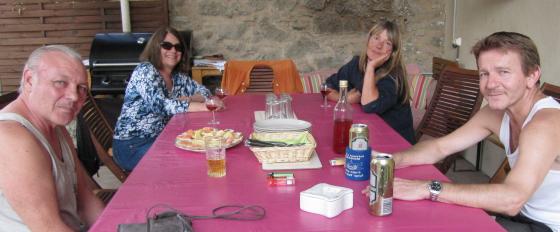 Left to right: André, Margie, Penny, & Greg at our outdoor dining table
The house was once a winery, and still contains a large open area with concrete fermentation tanks (entered from the outside, and separate from the living areas). The Hannafords are gradually renovating the house, improving the public spaces, and adding to the living area. Each of the three suites which have already been completed is decorated in a unique style. It could be a great place for a family reunion.
All the rooms at La Maison Rose are suites, and meals are available (we ate there three of our five nights). The large suite gave us plenty of room. Free WiFi access was included, and it worked in our room (it turned out that this was the only place we stayed that had free WiFi that worked in the room).
Different bed and breakfasts have different styles. Some are run like small inns, with meals taken at a private table, and occasionally even including hotel-like amenities such as small bottles of shampoo. But there are others in which you feel as if you've moved in and been adopted as part of the family. La Maison Rose is in the latter category, which suited us just fine. We found that the locals refer to Penny by her full name, Penelope, which. however, they pronounce roughly "pay-nay-lupp".
Thursday 9/10/09: Following Penny's advice, we drove down to La Tamarissière, parked at the beach (taking a brief look at it), and then took the boat "Mimi" across the Hérault river to Le Grau d'Agde. We walked around the small market area there, with a market in progress, and then had lunch on the river's edge at La Pergola. Larry had an appetizer with four oysters and four large shrimp, and then a fish dish (oysters are a specialty of the area, being harvested from the nearby Bassin de Thau). Margie couldn't take advantage of the great local shellfish due to a seafood allergy (to crustaceans like crab and shrimp, and mollusks like clams, oysters, and mussels).
We then drove to Sète along the spit separating the Bassin de Thau from the Mediterranean Sea, passing rows and rows of campers parked along the road for the day. We drove through Sète and along the eastern edge of the Bassin, passing an area of oyster beds, and drove into Bouzigues, where we had a drink on the edge of the harbor.
Finally, we returned home using the GPS, which we had set up in the driveway of La Maison Rose, telling it "use this location as home". When we arrived at our new "home" street, I expected the GPS to announce out loud, "Turn right on Rue Marcellin Albert". Instead, it told us to "Turn right on road". So although it apparently has the Hannaford's street on its internal map, the GPS unit didn't seem to know the street's name. We also found out that it didn't know that the street is one-way - it always told us to make an illegal left out of the driveway. When using a GPS, one has to learn when to ignore it.
We had dinner at La Pomme D'Amour, where Larry had Moules in a cream sauce (quite good), and maigret de canard (so-so). When we returned, Greg and Penny offered us a drink outside at the table.
We tended to over-eat a bit on this trip, partly due to the pricing habits of the restaurants. They generally offered a fixed-price menu (often several of them, at different price levels). These were at a substantial reduction from the total price of the same items ordered à la carte. The result was often that if you wanted to skip the entrée (remember that in France, the "entrée" is the appetizer) and the cheese and the dessert, and just order a main dish à la carte, you'd often find it more expensive than one of the fixed-price menus. This tended to drive you to a fixed-price menu selection, which often had more than you really wanted to eat.
I sometimes call this the "Costco effect". We're members of the Costco warehouse in the US, and are sometimes reluctant to buy a particular food item at Costco because it contains twice as much food as we'll be able to finish before it spoils. The problem is, it costs substantially less than the half-as-big item in our local supermarket. Thus, the most economical thing to do is to buy the item at Costco, and throw away half of it (we can't always find someone to share it with).
Friday 9/11/09: We drove on the highway to Carcassonne, and toured the castle, the church, and some of the streets of the Cité. Lunch in Carcassonne was at Le Comte Roger, in a nice garden under a vine, where Larry had a cassoulet with preserved duck thigh (quite good). The staff there was very pleasant and helpful.
We returned via (but circling) Bézier, on smaller, and very delightful roads roughly following the Canal du Midi. We stopped at Capestang, and chatted with some British people on a 20-meter longboat named the "Boston". It had been built in England, then taken across the North Sea to Holland, and ultimately down through France. We had a drink alongside the canal.
Back "home", we had dinner there, meeting some of Greg and Penny's friends, who dropped off their son for a while to go out for a birthday dinner. André was also there, so the conversation was in a mixture of French and English. André arrived with a large collection of charcuterie: an olive loaf, paté de chevreuil, jambon, and saucisson. I was pretty full by the time Penny served the meal, starting with a sort of quiche, and going on to a fish dish in a tomato sauce. Adding lots of wine at every step, we declined the dessert, so Penny saved the crèpe batter to use for breakfast.
Saturday 9/12/09: I didn't sleep well overnight, possibly due to having over-eaten and over-drunk. We got out rather late for the market in Pézenas, because Penny slept in a bit, and then we helped jump-start Greg's car (as I said, we were now members of the family). Breakfast, of course, was crèpes made with the batter that we had not used the night before. I had mine with an apple filling, but others had lemon and sugar.
We went off to the market at Pézenas (do pronounce the "s") late, so we were unable to park in the free parking, and had to park in the pay lot (even there we had to wait a bit to get in). When we left in the end, after many hours in the market and at lunch, the charge proved to be only €2, no big deal. It was a nice, long, narrow market, nowhere near the size and quality of L'Isle-sur-la-Sorgue, but fun nevertheless. We purchased a round oilcloth ("cirée") tablecloth for our outdoor table, some shampoo for Margie to try, and a couple of nice cork-covered handbags for our daughters back home.
Lunch was at a simple place, L'Arc-en-ciel, but was quite good. I had an ocean platter with smoked salmon and other things, and Margie had a platter of chèvre chaud. We made reservations for dinner at Le Palmier at 20:00 hours, and then walked over to the tourist information office to pick up a good map and a few brochures.
We were tired, and had a couple of hours to kill. Not wanting to do anything very strenuous, we drove back down to La Tamarissière, parked at the beach, and again took the boat Mimi over to Le Grau d'Agde. There we basically sat down and had a drink - we could have done that on the other side, and saved €4. We chatted the whole time with a couple from Millau, there with their 13-year-old daughter. The conversation was a bit odd, in that we spoke a great deal in French, and he spoke mostly in English. His wife and daughter said nothing.
We had a very pleasant dinner at Le Palmier (the bill says "Le Palmier", but the Visa slip says "Les Palmiers"). Larry had Rillettes de Thon and le plat du jour (veal with tarragon), and Margie had gazpacho and lamb (which came with a lamb-filled eggroll).
The GPS had been badly pronouncing the street names, so I tried switching it entirely to French (with a TomTom unit, you can have the directions in English and the street names in French, but the Garmin unit can only do everything in one language). As a result, the street names were better, but of course it became harder to understand the directions. We only kept the GPS in this mode for a little while, then decided that reacting rapidly to the directions was more important than having the street names pronounced properly.
Sunday, 9/13/09: We took a long drive to Collioure, almost on the Spanish border, made longer by the fact that the GPS, to get to the A9, turned us off the D18 onto the D125 to Bessan, and then tried to take us over a few gravel roads, all of which disappeared into private property. We had to revert to a regular map to get to the highway. Oddly, it didn't try any of this nonsense on the way back home, even though it was essentially the same route in reverse.
In Collioure, we drove past some distant parking lots, but then the one in the center of town showed "Complet", and there was a line of cars waiting to get in. We drove out the other side of town hoping for more lots. The street climbed steeply, and we saw Le Neptune restaurant on our left, which Margie immediately recognized as being the number one choice on her restaurant list for Collioure (not to mention the site of a Stu Dudley birthday dinner). It was 12:15, and a sign on their lot said "Parking pour clients seulement". We drove in, and parked in their almost empty lot, taking advantage of the empty space to turn the car around for easy departure.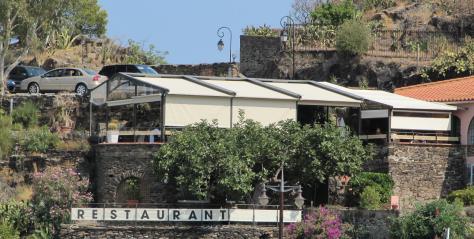 The Neptune restaurant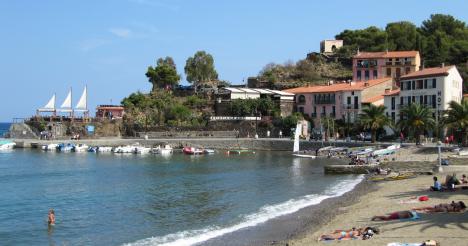 The Neptune, center, overlooking the beach in Collioure
Our timing was perfect. We were seated for lunch on their shaded terrace overlooking the harbor and the town below.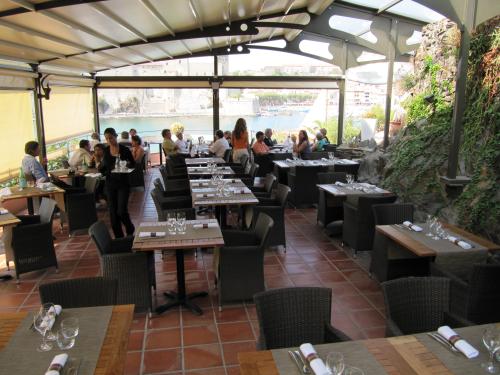 The Neptune's terrace
Shortly after we sat down, quite a few other people came in, and the terrace eventually filled up. We had a great lunch. They started us with a nice hors d'oeuvre of a kind of foamy chevre mousse, eaten with a spoon. Margie had a salad as an appetizer, while Larry had a great anchovy dish (the dishes were so well presented that we took photographs of Larry's). We both followed up with a fish dish, Bacalao, and a modified crème Catalan for dessert.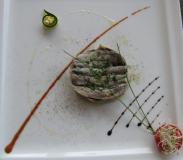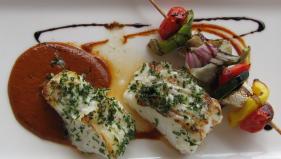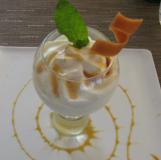 Larry's meal: entrée, Bacalao, and crème Catalan
The prices in euros were starting to feel comfortable, but of course, it's deceptive. With the horrible state of the dollar (on this trip, about $1.46 to the euro), France is pretty expensive these days.
Margie started a conversation with a couple from Carcassonne who were at an adjacent table. We found it very easy to start talking with people during this trip, compared with other regions of France we've visited.
Another great benefit of Le Neptune: they allowed us to leave our car in the lot after lunch, eliminating our parking problem (so I guess we can subtract the cost of parking from the cost of the lunch). We walked around the town, visiting a few galleries (although at that hour, just after lunch, some of them were closed). Collioure is a great artist's town - sort of like a French Rockport (for those of you familiar with Rockport, Massachusetts).
When we did leave the Neptune parking lot, it was pretty full, and I had to fold the car's side mirrors to squeeze out between a parked car and a large outcropping of rock. I had previously figured out how to fold the mirrors by looking it up in the car's manual, located in the glove compartment. Have you ever had a manual provided in a US car rental? I have ALWAYS found one in European rentals.
We returned via the coastal road for a bit, although it was slow going through a lot of touristy just-behind-the-beach areas. When the road finally ran right alongside the beach, we parked, and walked down to the water. We parked briefly to walk onto the long beach. Margie couldn't resist taking her shoes off and wading a bit in the surf. A swimmer chatted with us excitedly about a rather large fish that he had just seen alongside him in the water.
Compared with previous visits to French beaches, there seemed to be very little topless sunning in evidence (although it was not entirely lacking). This is in accord with a trend noted by an article I had read on the trip down from Paris, in the TGV magazine that was provided to everyone on the train. It was entitled, "Les Françaises, sont-elles pudiques?" ("Are French women modest?"). Of course, in true French style, the article about how modest French women have become was illustrated by a photo of a topless sunbather: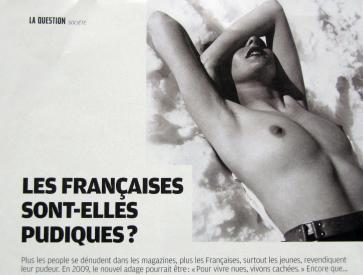 From the TGV magazine: "Are French women modest?"
When we got back for our last meal at La Maison Rose, Greg cooked a barbecue (André was present as well). But we found out that sadly, Greg's father had died (which apparently had been expected for some time), and Greg was due to leave the next morning for Bordeaux, to be with his mother. Greg said goodbye to us that evening, and by the time we got up the next morning, André had already picked him up and taken him to the train station.
Les Gorges du Tarn
Monday 9/14/09: Next stop: Les Gorges du Tarn. We got out fairly late, probably close to 11 AM. We tried to get gas at a station that turned out to be not yet open, which wasted some more time. We finally did get gas on the A75, which took even more time. And we then stopped at a scenic overlook to marvel at the Millau Viaduct (in French, le viaduc de Millau), the world's tallest bridge, whose highest support pylon is taller than the Eiffel tower (we didn't drive over it, though).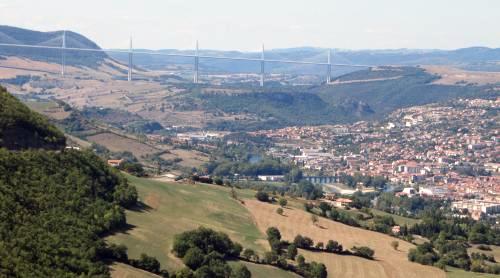 Le viaduc de Millau, seen from our overlook
As a result, we didn't get to Millau until around 1:30, and didn't find a suitable parking place until 15 minutes later. Then we found that all of the nearby restaurants were packed, and couldn't serve us for half an hour, if that. And Margie was starving.
We ate some trail mix, and started out of town toward Les Gorges du Tarn, in the hopes of finding something on the way. We didn't get very far before Margie noticed a "Snack" place, advertising hamburgers on their window. We found a space on the street ("Payant" with an horodateur). We parked between two plane trees, and backed up close to one of them, to make it impossible to open the back hatch. This was to make it harder to steal our luggage, visible in the back (although there didn't seem to be a lot of people walking by on the street). The one fault of our rental car was that it was a hatchback, and was delivered to us missing the usual "window-shade" type cover that can usually be pulled over the back compartment.
Thus we finally had a nice, but simple lunch, and a nice conversation with the couple running the snack bar. He was originally Italian, actually, and I spoke to him a bit in Italian. Larry had Kefta, and Margie a chopped beefsteak, both with fries - our least gourmet meal in France, but since we were starving, it tasted really good.
Back at the car, what Margie feared had come to pass: since I had parked at the extreme back end of the parking space, someone in a small car had parked in front of us! But although it was tight, there was enough manoeuvering room to get out.
Back on the road, we drove into the Gorges du Tarn. Despite some scary discussion in the Forum before we left, Margie didn't find the road wasn't all that scary, and she did fine, although it did get quite narrow in places. The scenery was gorgeous (no pun intended).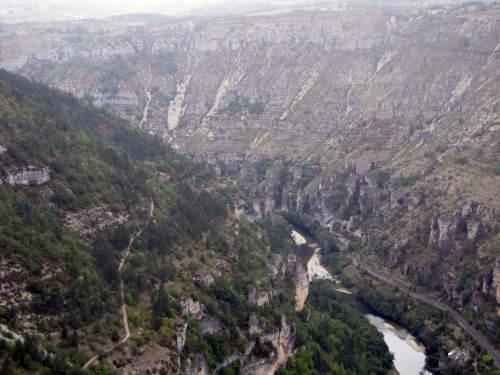 The Gorge du Tarn
We arrived in La Malène, checked into Le Manoir de Montesquiou, and unpacked. We walked around a bit, and collected brochures on the various boat rides and canoe rentals available. We had dinner at the hotel, which was quite good. Despite the fact that I did little that day but drive, I was very tired. In general, driving in France is not unlike driving in the US, but I think driving in any foreign country is stressful - the conventions and signage are just different enough to require constant heightened vigilance.
Our room at Le Manoir included private parking and free WiFi access (although it didn't work in the room), but not breakfast. In fact, with breakfast and dinner every day (there's not a lot of choice for dining in La Malène, and the dinners at the hotel were good), and the occasional afternoon drink charged to the room, we paid as much for food and drink at the hotel as we paid for the room. The service at the hotel was excellent, and the staff very friendly and helpful.
We've found that in old buildings in Europe, WiFi coverage is often not available in hotel rooms. This is described as being due to the thick stone walls. Actually, I think it's only partly due to the radio signal not propagating well through the walls. It's also because to get really good coverage, additional antennas are needed closer to the rooms, and those antenna units need to be wired and powered. And running wires around hotels constructed out of heavy stone is difficult, because you can't hide the wires easily, and because it's not easy to make holes through the stone. It's been done to bring electrical power to the rooms, but I'm not sure it's worth doing for the WiFi (perhaps that will change).
The dinner: we ate each evening from the three-course "Menu du Terroir", the least expensive fixed-price menu at the hotel.
Margie had:
Purée d'avocat à la truite fumèe et son tartare de legume au basilique
Filet mignon de porc caramélizé aux baies roses
Crème brûlée au pain d'épices
Larry had:
Poire à la poitrine fumée sur son croûton doré au Bleu des Causses
Epaule d'agneau farcie à la menthe
Notre plateau de fromages régionaux
Tuesday 9/15/09: After breakfast buffets at the hotel, we shopped at the local butcher for some ham for lunch, and then at a local store for half a baguette, two pastries, and some water. We set out at around 11:15 in a red plastic canoe rented from "Canoë 2000", right opposite the hotel. We paddled their 8 Km trip from La Malène to Cirque des Baumes, stopping around Les Detroits to eat our picnic lunch. The canoe is provided with a waterproof barrel to keep your lunch, extra jackets, or whatever elso you have dry. I was also given a smaller waterproof container for my camera, so I could keep it nearby. At the end of a long, very dry summer, the Tarn was quite low, and we often scraped the pebbly bottom. The canoes are very broad and stable, allowing them to traverse very shallow water, and the plastic is extremely resistant to damage.
We were offered a choice of standard canoe paddles (which I selected) or kayak-style two-ended paddles. But the canoes don't handle quite like a traditional canoe. Because they are so wide and flat on the bottom, they can slew sideways more readily than you might expect. In certain places, the current became rapid and quite a bit of fun to ride. But because the Tarn was so low, there was nothing that I could characterize as "white water". One of these minor rapids did at one point slide us up onto a rock, and I had to step out of the canoe to unweight it so I could pull it off. This wasn't a problem, since I was wearing my windsurfing shoes, and the water was shallow. I held on firmly to the canoe, since I didn't relish the idea of watching Margie float off downstream alone. The gorge was quite impressive, with its steep (sometimes even vertical) rocky sides, but of course it's no Grand Canyon.
If you'd prefer, for a bit more money, there are guided tours down the gorge in motorized boats. Some of these passed us on the way down. The boatmen used a small outboard motor where possible, and pulled it up to go with the current in the shallow sections.
At the final destination, we were picked up by a van, which towed a trailer carrying our canoe, and took us back to La Malène. The driver, I must say, drove faster than I would ever dare on that road, but then, he does this route several times each day. After changing at the hotel, we drove to Ste. Enimie, and walked through La Cité Médiéval (quite a climb). There was a school at the top, where a large class full of middle-school age children were playing some sort of pointless-seeming game in the yard. Along the road back to La Malène, Margie watched the "bars" on her cellphone. When service became available, we pulled over to the side, and finally set up our voice mailboxes on both phones, and checked our messages back at home in the US.
Dinner again at the hotel, from the "Menu du Terroir":
Margie had:
Croquant au fromagede Cardabelle pané aux noisettes, et sa poire tiède au vin
Brochettes de magret de canard aux abricots, herbes de Provence
Notre plateau de fromages régionaux
Larry had:
Tatin d'endives à la tomme de chèvre vinaigrette, caramel de cidre
Paupiette de truite rose mousse de poisson, vinaigre basalmique
Nougat glacé au chocolat
Wednesday 9/16/09: Our main aim for the day: the Grotte de l'Aven Armand, a large cave just a little to the south of La Malène. We were also attracted to the nearby Ferme Caussenarde d'Autrefois. The only problem: we were in a deep gorge that runs east-west, so driving south required driving straight up the side of the gorge.
Hey, we can do that, because just in front of our hotel was a bridge across the Tarn, and then a road that zig-zagged up the cliff, tacking like a sailboat up the steep slope, the traverses separated by about a dozen hairpin turns.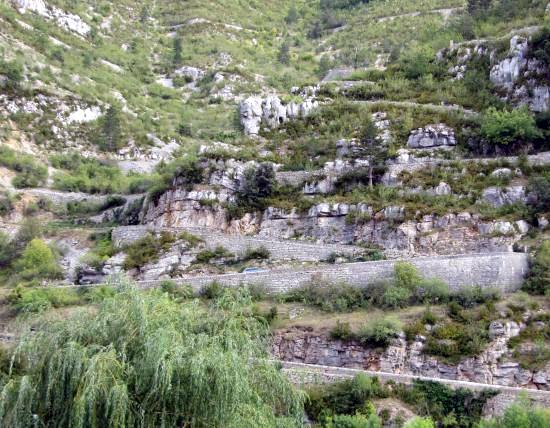 The road up the side of the Gorge (note the car, center, on the way up)
Here's an enlargement of the car which can be barely discerned in the image above (it's just a bit below the center of the picture):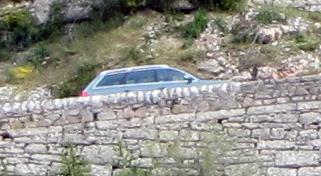 This seemed to be the sort of terrain that sent Margie over the edge (figuratively, not literally) in the Italian Dolomites, but for some reason she seemed game to give it a try, so up we went.
The road was actually narrower than it seemed from below, mostly only wide enough for one car, and there were places where the low retaining wall between the road and the precipice disappeared (maybe someone had knocked it over the edge). The day was also a bit rainy. But traffic was almost non-existent - we passed only one car coming in the opposite direction. My knuckles were white on the steering wheel by the time we got to the top, but Margie, to her credit, kept her eyes open the entire time. Once at the top, the terrain turned flat. We were on "la causse", a word that refers specifically to these limestone plateaus in south-western France (specifically, we were on La Causse Méjean). It is this limestone that, over centuries, the river Tarn had cut down to create the gorge. And it was similarly water trickling into the ground that created the huge Grotte de l'Aven Armand.
We had been told that the farm closed for lunch and the Grotte did not, so we decided to go to the farm first. But the young woman who welcomed us at the farm told us that the last descent into the Grotte de l'Aven Armand was at noon. Still, we had plenty of time to tour the farm and get to the cave before then. La Ferme Caussenarde d'Autrefois is a museum of a farmer's daily life until the 1950's on Causse Méjean, a self-guided tour that wanders from building to building. The tour also includes a miniature village, with the model buildings built out of actual stone.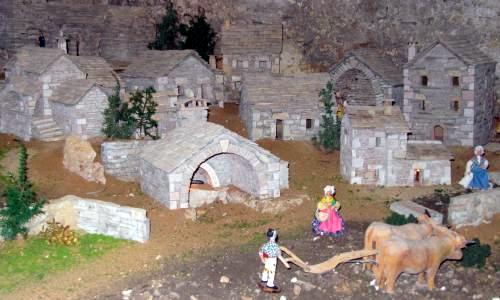 A small portion of the model village, built out of actual local stone
After the farm, we continued on to the Grotte de l'Aven Armand, and made the noon descent (we were given a discount based on a slip given to us by the farm). When the woman at the farm had told us that the last descent into the cave was at noon, I thought she meant the last one of the day. In fact, she just meant the last descent before a closure for lunch, as they re-opened at 2:00 PM. This lunch closure occurs only in the post-season. Although you descend into the cave in a funicular, you enter the cave itself near the top, and there's still a long walk down to the bottom and then back up. But without the funicular, the climb would be quite punishing.
The Grotte de l'Aven Armand is a truly spectacular limestone cave, with enough volume to fit Notre Dame cathedral inside. The large vertical dimension of the cave produces some differences from a typical limestone cave. In most such caves, you see stalagmites and stalactites in about equal numbers, and they are about the same size, and fairly smooth. But in Aven Armand, there are very many tall stalagmites rising up from the floor, and a much smaller number of much shorter stalactites hanging from the ceiling.
Our guide explained that the depth of the cave causes water to pick up quite a heavy load of minerals before dropping into the hollow, so that drops fall quickly, and don't have the time to form stalactites on the ceiling. They then drop a long way, hitting the growing stalagmite below with a powerful splash. The result: stalagmites that are not at all smooth, but look rather like tall stacks of pancakes. It's one of the most spectacular limestone caves I've ever seen. After our return to the surface, we ate lunch in their cafeteria.
In order to have a different drive back to our hotel, we drove back through Ste. Enimie. This also avoided driving back down the twisty road we had come up. We thought that it would be more difficult going down in the rain than it had been coming up. There's a great overlook on the road from La Causse Méjean down to Ste. Enimie, with a sweeping view over the gorge, and a view of St. Chély du Tarn way below.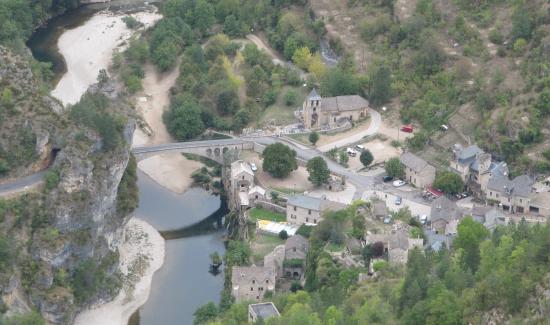 Saint-Chély-du-Tarn, seen from above
On the drive from Ste. Enimie back to our hotel in La Malène, we took a very short detour into St. Chély du Tarn, reached by a bridge across the Tarn, and had drinks there in a small café. We chatted (in English) with an Israeli couple with a small child, and the husband's brother, who now lives in France.
On the return trip, we passed what is perhaps the best-known hotel in the gorge, the Château de la Caze. However, a gate across the driveway restricts entry to guests only, so we couldn't take a closer look at it. Back at the hotel, dinner included mostly selections we had eaten before. The one new item: as an entrée, Larry had "Méli-mélo de salads, oignons, cèpes et saucisses de region tièdes".
Thursday 9/17/09: We drove to Arles, having lunch on the way at a great place in St. Hilaire (just outside of Alès), at the Auberge de Saint-Hilaire. We picked it out of the green Michelin guide, and telephoned to be sure it was open for lunch. When I asked for directions, I was asked whether I perhaps had a GPS unit in my car. When I responded in the affirmative, I was told to enter the address "5 rue André Schenk" into the GPS - an address not given in the guide. This was a very effective way of taking us to the restaurant - I don't think we could have easily found it otherwise.
We had two fixed-price dinners which were very good, and a great bargain (the menu included an entrée, main course, dessert, coffee, and a glass of wine). Margie started with "Tarte fine pissaladière aux oignons doux des Cevennes et anchois", and I started with "Petit pain de crustacés et crabes décortiqués, jus de carapaces". We then both had "Mille feuille de truite saumonée comme un lasagne, beurre ciboulette" as a main course.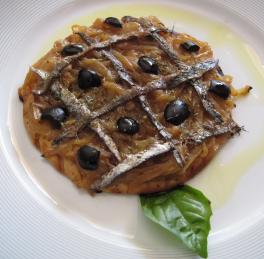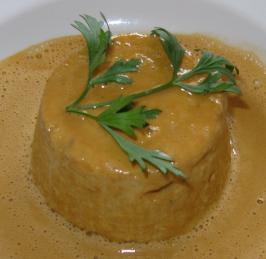 Left to right: Margie's entrée, Larry's entrée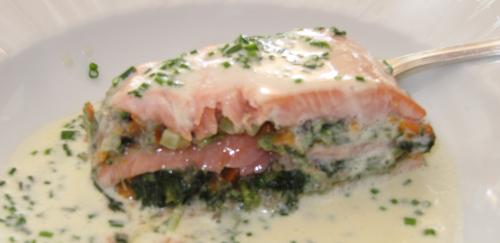 The "Mille feuille de truite"
After the meal, we chatted in the garden with the award-winning chef, Alain Reymond. He had already read the comment card we had filled out after the meal.
I've since found this menu on the web, although since it's a featured lunch of the moment, I don't know how long it will remain posted. But if you're curious, you can as of this date (October 6, 2009) find it by clicking here .
Arles
Arriving in Arles, the GPS plunged us into the narrow streets of the old city, eventually taking us to a dead-end near the amphitheater, in a spot with flaky cellphone coverage. By asking passers-by for help, and eventually spotting signs to the hotel, we finally got there. We were able to park at the hotel in a paid spot, the only time in this stay that we were ever able to find a space right by the hotel. As we walked around the narrow roads of the town over the next few days, I noticed that a great many cars in Arles have major dents and scrapes on them.
After walking around a bit, we had a nice dinner at a restaurant recommended by the hotel, Le Galoubet. My sleep was disturbed that night by what I at first took to be the rumbling of trucks in the street below. But once I woke up a bit, it proved instead to be thunder - it poured that night. The street was actually quite quiet at night (and like many old French buildings, the windows had heavy shutters).
Our hotel was the Hotel de la Muette, within the old city. The central location made it easy to walk anywhere in the central city, and the staff at the hotel was always friendly and very helpful. The room included breakfast and free WiFi, although it only worked in the lobby (those thick stone walls again). That actually wasn't much of a problem, as using the computer in the lobby/breakfast area got us chatting with the woman who was often behind the desk, Martine, who was very interesting and friendly. Although Martine does speak English, I spoke with her mostly in French.
Friday 9/18/09: We started off with the intention of staying in Arles, because the day was rainy. But then we found out that due to Les Jours du Patrimoine Français ("The Days of French Heritage"), the museums of Arles (and all of France) would be free all day Saturday and Sunday. So we decided to take a chance on the weather, which seemed to be clearing up, and we set out for the Camargue. On the way, we stopped at a platform built up to create an overlook over the otherwise low, flat area (the Camargue is the Rhone river delta). From there, we could see wild horses grazing (often seen wading in the water). We also passed ranches along the road with Camargue bulls in evidence.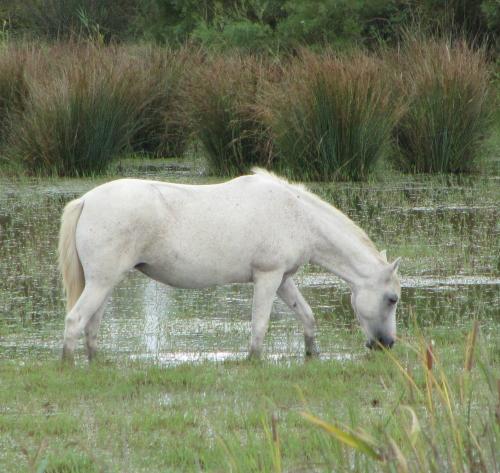 A "wild" Camargue horse
Approaching Les Saintes-Maries-de-la-Mer, we parked next to Les Jardins Ornithologique, and had a good lunch at the Hostellerie du Pont de Gau. We then toured Les Jardins Ornithologique without having to move the car. This was our second visit to this park, but it's hard to get tired of the incredibly varied wildlife on display, and the huge flocks of flamingos.

Flamingos in the Jardins Ornithologiques
We drove into Les Saintes-Maries-de-la-Mer, walked around, and visited the church. We chatted with a man watching a game of Pétanque. Back in Arles, we had dinner at Chez Ariane, recommended when we asked about having a lighter meal (it's a wine bar, but serves food as well). Although it drizzled on and off during the early part of the day, the weather didn't affect us at all, and by the end of the day, it was sunny.
Saturday 9/19/09: We left the car untouched all day, and went through the Arles open-air market, where we bought almost all the gifts we wanted, as well as a new tablecloth for ourselves. We had lunch at Le Malarte, on the Boulevard des Lices, where we both had the Plat du Jour, which was lapin (rabbit). We then toured museums for free, due to Les Jours du Patrimoine: the roman Amphitheater, the underground Cryptoportiques, and the Musée Réatu (Picasso). We also saw three weddings empty out of the church into the main square, one in traditional provincial dress, with the couple leaving in a horse-drawn carriage.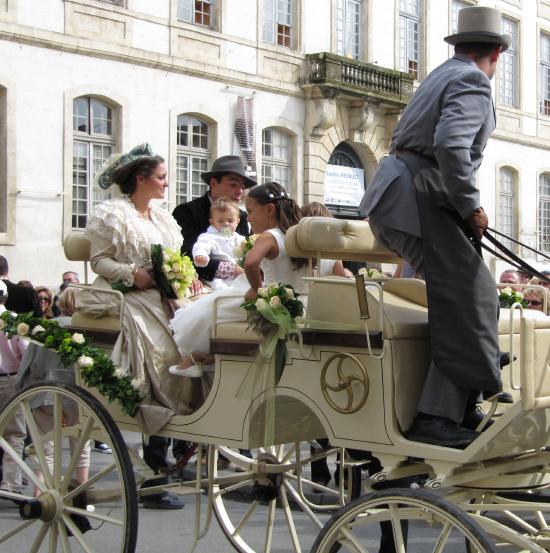 A wedding in traditional Provençale dress
Dinner at Lou Caleu, where we met a French couple at the adjacent table, and as Margie put it, she "made her first friend in French". After dinner, our new friends reminded us the windup parade of the Festival du Riz (the rice festival), which we had forgotten about. The parade was scheduled to start at 9:00 PM, and it was 9:40, so we figured we must have missed most of it. "Mais non", our friends noted. This is southern France, nothing starts on time. They told us it would be about an hour late. So we walked with them down to the Boulevard des Lices, to watch.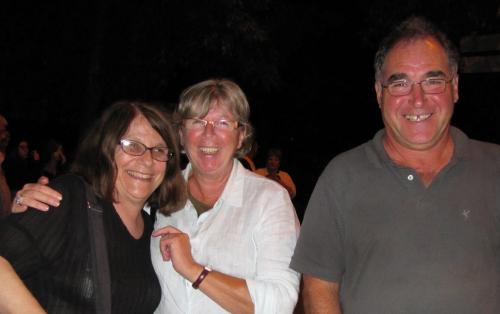 Margie with our new French friends
We found ourselves just opposite the official reviewing stand, and indeed, fifteen minutes later, after innumerable pompous speeches thanking everyone who had been even remotely involved in organizing it, the parade passed by.
To understand Margie's reaction, I'll have to cast your minds back to the year 1970, when Margie and I were married, and honeymooned at the Club Med "Fort Royal" in Martinique. We were married in late June, so we managed to be at the Club on "Bastille Day", the fourteenth of July, which the club celebrated with elaborate day-long festivities. The day started with (here's the connection) a parade, which was designed as a parody of a French small-town parade. The roles of the various townspeople were played by the staff (the "G.O.'s", or "gentils organizateurs") of the Club: they dressed up as the mayor, various town officials, the police and firemen, the barber, the doctor, the town prostitutes, and so on.
Upon arriving at the Café du Port, the "mayor" appeared at the second-floor balcony, holding a copy of his speech in his hand. He started, "Je serai bref" ("I'll be brief"), and then allowed the rest of his text to unroll from the balcony, where it reached down to the ground. This was followed by a long and pompous speech which ended with the dedication of a new structure, which could be seen in front of the Café, covered with a tarp. At the conclusion of the dedication, the tarp was pulled off with great fanfare, revealing the new structure to be a "pissoir", that is, an old-style Parisian street urinal. Written on it were the words, "Défense d'uriner, loi du 13 mai, 1793". This was only the start of a day of non-stop celebration, drinking, and feasting to celebrate French independence.
Anyway, back in Arles, the speeches droned on, and one tractor-drawn float after another passed by. Here's a float with Camargue rice farmers: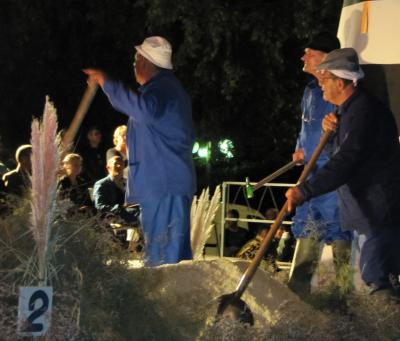 Camargue rice farmers
There were also performing horses, and the attractive "Miss Arles":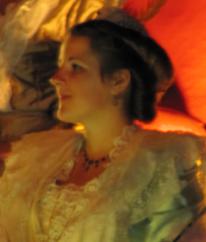 Miss Arles, 2009
And there were a host of other floats sponsored by various organizations. Margie remarked that it reminded her of nothing more than that parody of a small-town French parade we had seen at the Club Med over 39 years before. One of the floats was a model of a Mississippi river boat, a side-wheeler, carrying a jazz band. To be sure you knew what it was, it was labeled "MISSISSIPI BOAT" in large letters: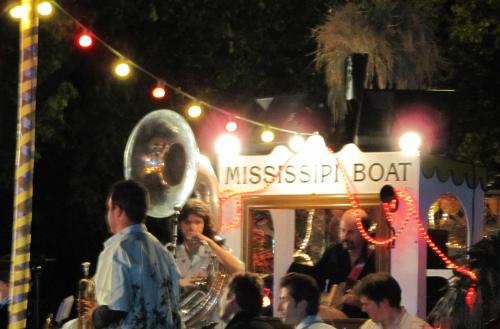 The "Mississipi boat"
Obviously, a little internet research on the spelling of "Mississippi" would have been in order.
Sunday 9/20/09: Another day without the car, but more museums: the Musée d'Arles Antique in the morning, with a terrific collection of prehistoric and Roman relics. Walking back to the old city, we each had a Salade Niçoise at the Café El Niño, in the Place Paul Doumer. In the afternoon, we went through the old Roman theater. Back on the Boulevard des Lices, the market had now been replaced with a collection of display tables representing various local Associations - rather interesting.
We had previously reserved for dinner at L'Escaladou. They serve a Bouillabaisse, which I didn't have, but I saw one at an adjacent table. It was a traditional Provincial Bouillabaisse, meaning it contained no shellfish, and was served with a rouille. I had sea snails with Aïoli, and a fish dish with a rouille which was white, and not red. I had previously thought that a rouille was always red - the word means "rust", after all. My sea snails looked nothing like the land snails that we are used to when they are served as escargots de Bourgogne. They were grayish in color, and covered with pointy protrusions. Here they are, with the bowl of aïoli (a garlic mayonaise) on top, and the potatoes and carrots traditionally served with aïoli on the right. The implement sticking out of the potato is a pick used to pull the snails out of their shell: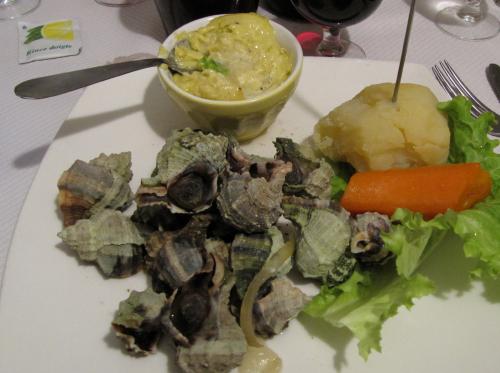 Larry's sea snails aïoli
Monday 9/21/09: We packed up our baggage in the morning, to prepare for our Tuesday departure, and had lunch at Le 16. We then walked to the car (which, I was relieved to see, was still there), and drove to Les Baux de Provence, where we saw the Cathedrale d'Images show. This impressive show has images projected onto the walls of a giant quarry, constantly changing, and set to music. It's a little hard to describe, but well worth a visit. The current show is on Picasso. We'd been to the town of Les Baux de Provence before, so we didn't hike up into the old village this time.
In order to maintain my French ("Use it or lose it"), I participate in a French conversation group that meets every other week. I also subscribe to French Word-A-Day, which helps add to my vocabulary in an easy and entertaining way. This "blog" is run by Kristin Espinasse, the American-born wife of Jean-Marc Espinasse, a French vintner. Well prior to our trip, to show my appreciation of her blog, I had sent Kristin a few stories about some of my experiences in France. She actually posted a couple of these on the blog, here and here.
So when I mentioned to Kristin in an e-mail message that we'd be around her neck of the woods, she invited us to drop by to say hello. I had telephoned from Arles to set up a date and time. I was uncertain if a visit would really be possible, because Jean-Marc was in the middle of le vendange, the grape harvest. He had brought in the grapes for his rosé a few weeks earlier, but was now in the middle of harvesting grapes for his award-winning red (Domaine Rouge-Bleu "Mistral").
Thus it was that after leaving Les Baux de Provence, we drove north to their small village, and, as arranged, dropped in on Jean-Marc and Kristin at 5:30 PM, just as Jean-Marc returned from the harvest, and Kristin drove the kids back from school. They treated us to some of their excellent wine, along with some local olives, and after chatting a bit, we watched Jean-Marc and his assistants unload the day's harvest into a concrete fermentation tank (for this particular red, stems and all). I've posted some photos from this visit on a separate web page, which you can get to by clicking here. If you go off now to read it, return here by using your browser's "BACK" button.
Leaving at about 7 PM, we drove back to Arles, arriving after dark. After trouble finding parking, it was about 8:30. We were starving, and we went in to the first restaurant we saw, an Italian restaurant called La Dolce Vita. The food in this randomly selected restaurant was quite good, and at the end of the meal I had a conversation in Italian with a group from Piemonte at a nearby table (the second time I was able to sneak in a little Italian practice on this trip). I'm not sure why a group of Italians visiting France were seeking out Italian food. When I'm in France, I don't go looking for American food (whatever that would be).
Tuesday 9/22/09: We finished packing up, and walked to the car backward down the route we intended to use to bring the car up to the hotel to load it up. I had learned that it's worthwhile to be sure of your route in Arles, which is full of narrow one-way streets (some of these are closed at certain times of the day by steel posts that pop up out of the ground). I was disturbed to see a barrier barring the route, but it was manned by a couple of traffic control agents. Their purpose was to keep tourists out of the central city during the day, but they assured me that all I needed to do was to tell them I was only going to the hotel to load up my luggage, and they would swing the barrier out of the way and let me through.
We drove to Avignon to return the car, and caught the TGV back to Paris GDG. Although we had picked up the car in Montpellier, there was no problem returning it to Avignon, as previously arranged. Avignon had three advantages for us. It is closer to Arles than Montpellier, the timing of the available TGV trains was better for our schedule than the trains from Montpellier, and we'd been to the Avignon TGV station twice before on previous trips, so we knew it well. (Returning the car in Arles itself would have required a change of train, and boarding a train with our heavy luggage is the most strenuous part of our travel.)
Returning home
Our round-trip return was from Paris Charles de Gaulle airport on 9/23, leaving at 1:30 PM. We chose to return to Paris a day early, to avoid trying to make a tight connection to an international flight. Thus we used Hotwire to book one night at a hotel at or near the airport. Margie asked for a four-star hotel IN the airport, hoping they'd give us the Sheraton near terminal 2. The Sheraton is the only four-star hotel that is actually IN the airport, and reading commentaries on various web sites, Margie concluded that by asking for a four-star hotel IN the airport, Hotwire could only assign us to the Sheraton. But Hotwire instead assigned us to the Hyatt Regency Charles de Gaulle, which is actually about a ten to fifteen minute shuttle ride from the airport.
When we arrived at the TGV terminal at the airport, it was not particularly obvious where to go to get the shuttle. I tried to telephone the hotel from alongside the track to get directions, but this proved to be impossible because of continual booming public address announcements. These were at high volume, making phone calls impossible, and they came one after another, with a gap of only a few seconds between announcements. As it turned out, while I was trying to make these calls, we were missing the hotel shuttle.
Dragging our luggage up into the station itself, I got directions to the shuttle pickup area (the shuttle is "La Navette"), which involved taking an elevator up to an elevated roadway. On the elevator, we ran into a slightly panicked man who had a train leaving in five minutes, and he'd been running around the station trying to find the right platform (I don't know if he ever made it). In the shuttle pickup area, another couple had been told to go to "Gate 8" to meet their pickup, but had no idea what that meant. Charles de Gaulle seems to have rather poor signage, and uses confusing terminology (after all, a "Gate" is usually a place you board an airplane, and the same word shouldn't be used for something else).
The shuttle area was very poorly designed, in two ways. First, the platform on which people stand is enclosed enough to expose those waiting to a considerable level of diesel fumes. Second, the platform is on the LEFT side of the vehicles, and all the shuttles, without exception, were boarded on the RIGHT side only. This meant that when a shuttle stopped, all those boarding and getting off had to cross the road in front or behind the vehicle (generally dragging their luggage), which wasted a lot of time. I suppose the airport will fix this at some point in the future after someone is run over by a shuttle.
There was no sign on the platform indicating the names of the various shuttles, so I asked several drivers what shuttle to take for the Hyatt Regency. I was told that the Hyatt had their own shuttle, which ran every twenty minutes. We in fact waited about half an hour for one to come in, so I assume we had just missed one.
Arriving at the Hyatt Regency, we found ourselves in an impressive four-star hotel, with a massive atrium, like many (or all?) Hyatts. Our room was very large, with all the amenities - robes, shampoo, body lotion, hair dryer, etc. A free spa was available to guests. But the Regency was the only place we stayed during this trip where we had to pay for internet access, €0.10 per minute (up to some maximum, I think €22, per day).
We had booked the hotel on Hotwire.com. The idea of getting a four-star hotel at a reasonable rate seems like a great idea. But it does isolate you in four-star-land, meaning a place where everything is expensive. There are no restaurants you can walk to from the hotel - you're held hostage to their restaurant, for both dinner and breakfast. Both were good, but when we checked out, we found we had spent more on meals and internet at the hotel than we had paid for the room itself.
On the other hand, the room was large and comfortable. The last time we stayed overnight at the airport (two years before), we stayed at the Ibis, right in the airport. Our room there was tiny, which made packing for the return flight a bit of a challenge. Our room at the Hyatt Regency, as I've already noted, was large enough to give us room to spread out.
Wednesday 9/23/09: While hanging around in the airport, I recorded a new greeting on our voice mailboxes (in French), something to the effect of "This phone is no longer in France, so don't bother leaving a message, because we won't return your call". Actually, I also included the phone number, so in the case of a wrong number, people could figure out what had gone wrong.
The flight back on American Airlines was uneventful - on time, and quite comfortable because, as on the way over, we had an empty middle seat between us.
Other trip details
We had a rental car for the duration of the trip, rented on the web and prepaid through Kemwel, and the car was supplied by Europcar. As usual, we chose a car one size above "compact". Although a small car is more maneuverable in Europe, I feel that I'm probably more apt to get into a collision when driving an unfamiliar car in an unfamiliar country, and in that case, I'd rather be a bit better protected. We declined the insurance, and instead used the insurance provided by our credit card. This does mean that in the event of damage to the car, my card would be charged the full amount, and we'd then have to file with the card's insurance carrier for reimbursement. We were happy with all aspects of the car rental.
The car was a Volkswagen Touran diesel, a standard shift hatchback. A surcharge noted on the Kemwel voucher that we didn't face was "Environmental fee of approximately €5 per day (maximum charge of six days) for all automatic vehicles." We drove 1549 Km (960 mi) in total, and used 99.16 liters (26.2 US gallons) of diesel fuel, which cost €116.02 ($169.39). Thus our mileage was 15.62 Km/liter (36.66 MPG), and our fuel cost was €1.17 per liter ($6.50 per US gallon at the terrible exchange rate).
We enjoy having a cell phone for each of us while in Europe, although some might find that extravagant. In the past, we've bought pre-paid SIM cards for our unlocked GSM cell phones, and added minutes to the cards as needed. This time, we bought SIM cards from Call in Europe, which charged our usage directly to a credit card. This worked out reasonably well - the rates were reasonable, and we didn't have to keep monitoring our balances and recharging the prepaid cards. The cost to call in France is the same as the cost to call from France to the US, so there's no need to use a calling card which requires the entry of additional access numbers.
However, in France, Call in Europe provided our service through the carrier SFR. SFR turned out to have poor coverage in the places we visited. In Montblanc (Herault), we could make calls from our balcony, but had poor reception in other places. In Les Gorges du Tarn, we had no reception in La Malène, where our hotel was located, and no reception in many places in the gorge. We at one point pulled the car over to the side of the road where we had coverage, in order to make a phone call. In Arles, the coverage depended on where we were - we lost it during a critical call while trying to figure out how to get to our hotel. In some place, we were told that the carrier Orange had better coverage. But in past trips, we've been in places where SFR is better than Orange.
We also used Skype to place calls to telephones in the US. But in two of the places we stayed, the WiFi connection to our computer only worked in public areas, and in those places, we often preferred to use our telephones. Our WiFi connections were free everywhere we stayed except at the Hyatt Regency near the airport in Paris, where there was a €0.10 per minute charge.
We brought along a Garmin GPS unit (Global Positioning System), with European maps purchased from Garmin. The maps are delivered on an SD card that plugs into the unit. The map chip was bought about a year ago, and first used in Italy. The GPS was very useful, but it had some quirks. The English pronunciation of the French street names made that name-reading feature almost useless. I know that TomTom GPS units can pronounce street names properly in French, while still giving the driving directions in English. But with my Garmin Nüvi 650, the language of the directions and the reading of the street names cannot be separately selected - they're either both in English or both in French.
Reading French street name using an English text-to-speech algorithm really mangles them badly, often beyond comprehension. Fortunately, I could read the street names on the display, and proper pronunciation of the street names, while helpful, is not a critical part of the operation of a GPS.
The Garmin unit seemed to have frequent problems with the roads not matching the maps, particularly in Languedoc. It was clear that there has been a lot of construction in the area recently - many of the roads and roundabouts looked new, and were not known to the GPS. In one area, the road had been substantially shifted, and you could see the old road off to the side, now being used for parking. The image on the GPS screen showed that it thought we were plunging along through the dunes. I had to mute it to stop listening to its exhortations to get back on the road.
A general problem with any GPS is that you can become addicted to it, and lose track of the larger picture of where you are. Margie tended to follow along with a map.
We made the greatest use of two Michelin guides, the "Provence" guide, and the "Languedoc, Roussillon, Tarn Gorges" guide. We also used the Thomas Cook book, "Languedoc and South-west France, Driving guide for the independent traveler". Due to weight considerations, we didn't bring along Rick Steves' FRANCE book. But someone loaned us one at some point during the trip, and we liked its advice, so we wished we had brought along our own copy. We used several maps: the Michelin 526 REGIONAL Languedoc-Roussillon 1:300,000, the 340 LOCAL Bouches-du-Rhône, Var 1:175,000, and the IGN departmental Bouches-du-Rhône 1:125,000.
Conclusion
We greatly enjoyed our stay, as we have enjoyed all our recent visits to France and Italy. Our two previous vacations were chosen so as to stay in one place the entire time, in an apartment, using it as a base for day trips. Two years ago, we spent three weeks in Bonnieux (Provence), France (Fodor's Forum report here), and last year, two weeks in Montepulciano, Italy (Fodor's Forum report here). For this vacation, we went back to an earlier mode of travel, staying in one place for only three to five days, in a B&B, before moving on to another area.
Although this vacation was enjoyable, we decided that we prefer our earlier mode of travel. When you move around, the better part of a day is lost whenever you move from one location to another, and you don't get the same feeling of settling in and becoming really comfortable in your base location. Also, having an apartment allows you to cook some of your meals yourself, so you're not perpetually eating (and paying for) restaurant food. Seeing a number of different areas is nice, but in our mind it doesn't make up for what is lost.
Although we liked all the areas we visited, there's a lot to be said for Languedoc/Roussillon, or at least the small part of it that we saw. It's less "touristy" than other areas we have visited, and there were almost no Americans around. The area is substantially less expensive than Provence. The people we met were particularly friendly and easy to talk to. Recall, though, that we both speak French, and I think we're getting more attuned to French customs, as laid out by Polly Platt in her book "French or Foe?". If we're seated at a table in a restaurant, we'll acknowledge our neighbors with "Bonjour, Monsieur/Madame" as we're seated. This establishes a connection, whether we talk with them later or not. It also establishes that we speak French, or are at least willing to give it a try.
Where to next in France? It probably won't be for two years, and we have plenty of time to think about it.
---
The Trip Report above was originally written for the Fodor's Forum, where it can be found at:
http://www.fodors.com/community/europe/trip-report-languedoc-gorges-du-tarn-arles.cfm
Putting it up here on my own web site allowed me to mix in a few illustrative photos. In recent travel, we've been photographing less, with the thought that always being busy taking pictures can detract from actually experiencing the trip.
---
Click here to go to my home web page
Click here to send me e-mail.
This page was posted 10/8/09