#0220


First year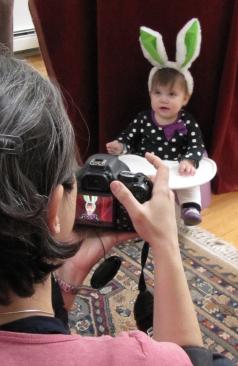 When baby Darwin was born to my daughter Elissa, my other daughter, Sara, promised to take a photograph of her every week during her first year. Thus the final photograph of that birthday gift, week 52, was taken at Darwin's first birthday party, which Margie and I hosted at our house.
To the left, you can see Aunt Sara shooting a Week 52 candidate. On her first birthday, Darwin posed wearing a pair of rabbit ears, as you can see.
As I've previously noted, it's fascinating to see Darwin experiencing everything for the first time. She wasn't too sure what was going on at her first Halloween, as documented in my blog entry Nine months. A month after Halloween was her First Thanksgiving, and then on Christmas 2013, her first Christmas.
But this entry celebrates Darwin's entire first year, by exhibiting all the photos that comprise Aunt Sara's gift. Here they are, below, one at birth, and then one a week for 52 weeks. I've posted them in a size that's sufficiently large for easy viewing, so you don't have to click on each one to enlarge it, you can just scroll down (although if you want to see a bigger version, you can click on any photo). This makes for a rather long blog entry, but scrolling is cheap.
| | |
| --- | --- |
| Birthday | Week 1 |
| Week 2 | Week 3 |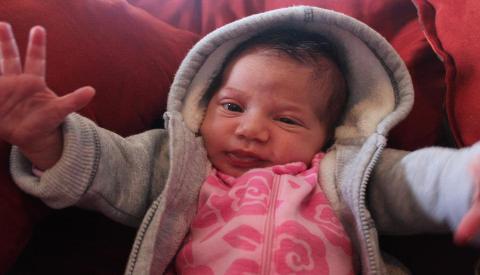 Week 4

| | |
| --- | --- |
| Week 5 | Week 6 |