#0211


Christmas 2013




Road trip !!

As I mentioned in my last entry, entitled Christmas, our usual practice of celebrating Christmas at home had to change this year. So Margie and I, together with our younger daughter Sara, set out on a Christmas road trip. Note 1

Sara, who brought along her iPhone, her camera, and a laptop computer, posted frequently to Facebook throughout the trip. She included lots of pictures, and a running count of the cousins and other relatives she was meeting. Indeed, most of the pictures in this entry were stolen from Sara's Facebook page.

In the following notes, the letters in brackets (like "[A]") at each stop give its location on the map at the end of this entry.

Stop 0, our starting point, Wayland, Massachusetts: ([H] Tuesday, December 24) We held our Christmas morning gift exchange at home, a day early. This was baby Darwin's first Christmas, and hence her introduction to our habit of excessive gift giving. Here she is among the Christmas gifts: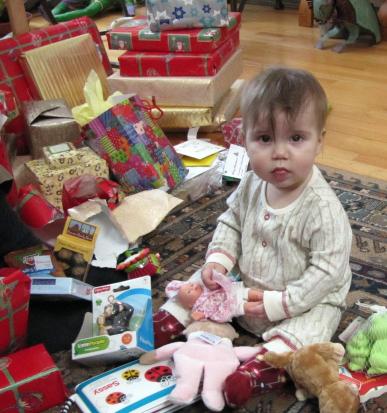 Those are not all for her, of course, but she got her share. After the gift exchange, we headed out for our traditional pre-Christmas Chinese dinner. Note 2
Stop 1, Willington, Connecticut: ([B] Wednesday, December 25) We began our travel on Christmas morning. While I won't bore you by listing the many places we ate on this trip, I will mention our first restaurant meal, just off Interstate 84 at a Travel Centers of America truck stop. Because we feared a traffic jam on the Massachusetts Turnpike at the Sturbridge exit, we wanted to get past that point before eating lunch. We chose the TA truck stop because we thought that many of the restaurants we often stop at on the way to New York might be closed on Christmas day.
The Willington TA truck stop has a Country Pride restaurant, which was serving a Christmas buffet. This was the start, for me, of five days of excessive eating. All the booths in that restaurant have short travel-related quotes posted on the backs of the seats: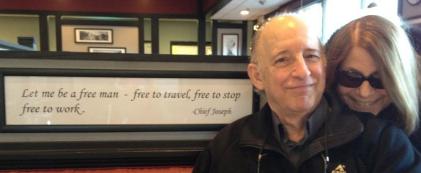 Not only was there no traffic delay on the Mass Pike at the Sturbridge exit, we had no delays at all on our entire drive to New York! I'm emphasizing that because this was a first. We have never before driven to a destination in the New York City area without experiencing a traffic delay somewhere along the way (usually approaching one of the bridges or tunnels, or on the roads of Long Island). Long Island has multiple highways running its length, but I've always felt that even if they paved the entire island, it would jam up with cars. Driving through New York without traffic was a Christmas miracle.
Stop 2, Glen Cove, New York: ([C] Wednesday, December 25) Because we experienced no delays en-route, we arrived at my cousin Charline's annual Christmas party rather early. At this wonderful, warm, mostly family gathering, we saw cousins we hadn't managed to get together with in quite some time: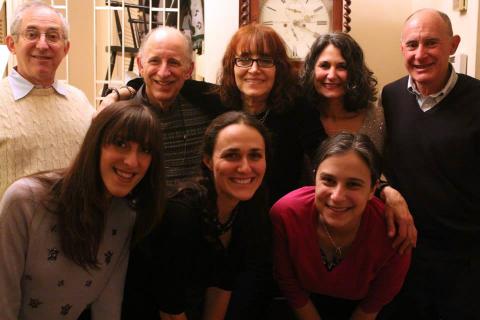 Back row, L-R: cousin Steve, me, sister Alice, cousins Charline and Gary
Front row, L-R: Gary's daughter Rachel, Charline's daughter Kiera, Sara
We missed seeing Steve's mother Blossom, and Gary's wife Heide, both of whom were unable to make the dinner. A staggering amount of food was served. Alice (below left) brought her version of my mother's anchovy and pimiento dish, which is always consumed quickly. Below right, Kiera and Rachel sample an enormous cheese plate. And these were only a small portion of the hors d'oeuvres.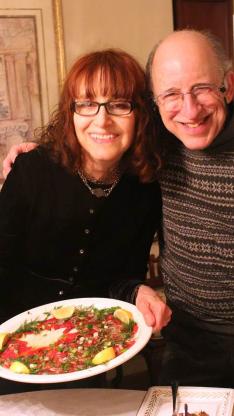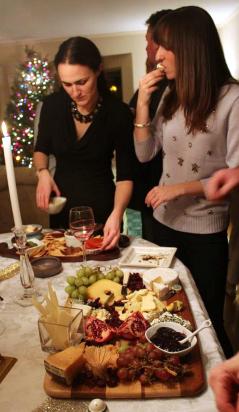 Stop 3, Baldwin Harbor, New York: ([D] Wednesday, December 25 - Saturday, December 28) The majority of our trip, in terms of the time spent, was a visit to Margie's sister Barbara and her husband Jerry on the south shore of Long Island. Also visiting were their son Bruce, his children Aaron and Emmie, and their dog Winter. Sara entertained the children by balloon twisting, and by creating a dramatic (although tongue-in-cheek) crime drama on her computer, using iMovie. Note 3
Below, a scene from the movie, with Winter playing a police dog. The yellow object in Jerry's hand is a balloon sculpture representing a police revolver. The dog, Winter, was not a great actor. In this scene, he can be seen facing his master, rather than the camera: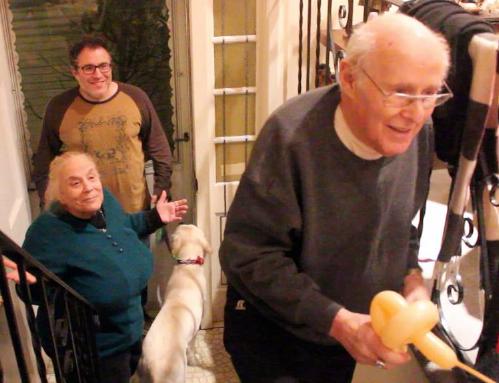 Here are the kids wearing Sara's balloon hats. Left-to-right below, Sara, Winter, Emmie, and Aaron.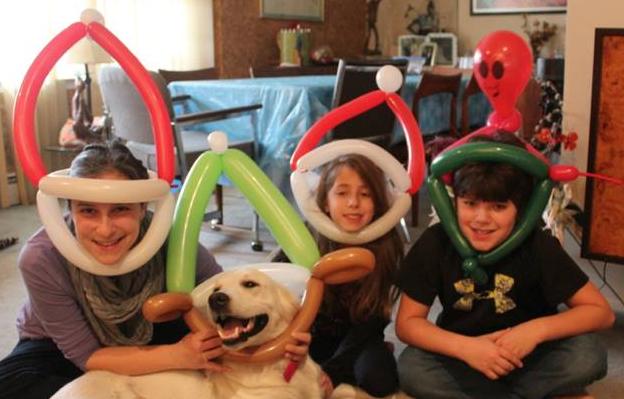 There's no need to go into detail about our various activities. Suffice it to say it involved a lot of holiday eating, both eating-in and eating-out.
Stop 4, Cortlandt Manor, New York: ([E] Saturday, December 28) Having packed up after our three-night stay, we drove north over the Throgs Neck Bridge, up the old Taconic State Parkway, and eventually arrived at the home of Barbara's other son Barry, his wife Melissa, and their two children Ethan and Mollie. We'd been meaning to visit them since they moved in to this house about two years ago, but we'd somehow never made it.
Here's the family. Left-to-right: Mollie, Barry, Margie (with Ethan behind), and Melissa: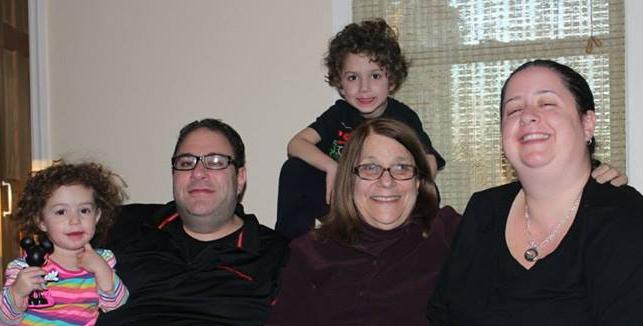 Here are a couple of Sara's photos of Ethan and Mollie, taken in the back yard: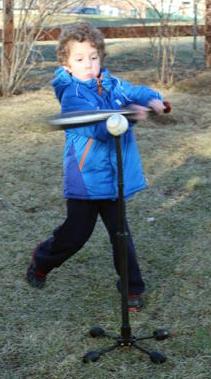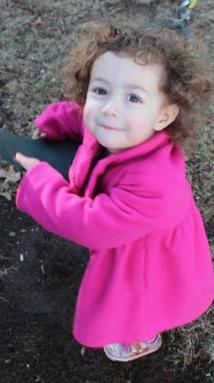 Stop 5, Great Barrington, Massachusetts: ([F] Saturday, December 28 - Sunday, December 29) After a short visit, we continued up the State of New York's Taconic State Parkway to Route 23, on which we drove east, crossing into Massachusetts, and continuing to the town of Great Barrington, where we spent the night. We had originally chosen to stay there because we had intended to revisit the Norman Rockwell museum in nearby Stockbridge. But an expected rainstorm, with possible snow and icing in Western Massachusetts, caused us to move the remainder of our Sunday activities a bit earlier than we had originally planned, so we had no time for the Rockwell museum.
Stop 6, Amherst, Massachusetts: ([G] Sunday, December 29) Driving via the Massachusetts Turnpike to Amherst, we met my sister Phyllis and her husband Peter at Atkins Farms, a large farm stand and market on the outskirts of Amherst. They provide an eat-in area where you can consume sandwiches or other dishes purchased in the deli department, bakery, or other parts of the market.
We were joined by Phyllis and Peter's daughter Liza, Liza's boyfriend Matt, and Phyllis and Peter's grandson Jackson. Jackson was left in their care to enable his parents, Jonas and Carolyn, to attend the Michigan State vs. Stanford football game at the Rose Bowl in Pasadena, California. Carolyn is from Michigan, and the members of her family are all Michigan State supporters (now that we've returned, I can add that Michigan State won the game).
Here's Jackson being spoiled rotten by his grandparents: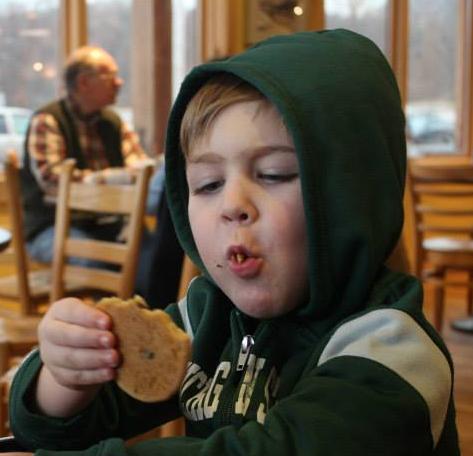 Stop 7, Amherst, Massachusetts: ([G] Sunday, December 29) Phyllis had selected Atkins Farms for lunch because it's right around the corner from the Eric Carle Museum of Picture Book Art, which we then visited. This museum was founded by Eric and Barbara Carle in 2002. Eric Carle is an author and illustrator of more than 70 books, primarily children's books, his best known being The Very Hungry Caterpillar.
After touring the museum, containing illustrations by many artists, we took Jackson to the museum's art workshop, where he made a tissue paper collage. Actually, most of the adults made one too. Seen below, Liza on the left, Phyllis, then me, with Jackson at the head of the table: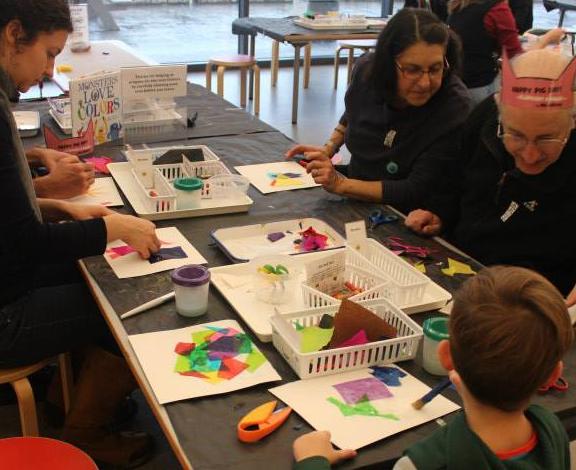 Here's Jackson's final result: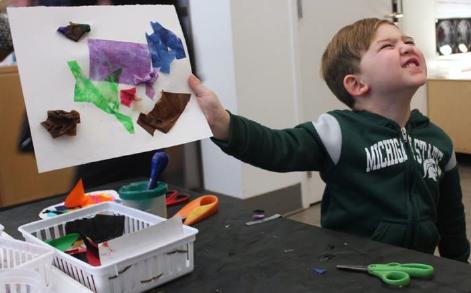 Below, left: Peter and I are standing in front of a large Eric Carle painting. Right, Liza and Jackson about to tour the museum.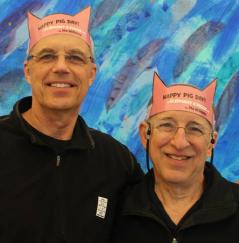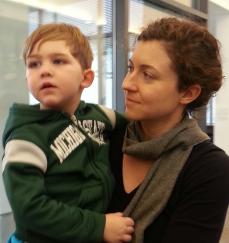 Return, Wayland, Massachusetts: ([H] Sunday, December 29) By the time we left the Eric Carle Museum, the weather was turning really nasty. We drove home on the Massachusetts Turnpike through a driving rainstorm, encountering some delay around Sturbridge, where all the end-of-weekend traffic coming up from New York City merged onto the road. We did not, however, encounter any snow or ice.
Sara picked up her car from our garage, and drove to her apartment. She shortly posted on Facebook, "Home! It ended up being 25 family members that I saw this week: 2 parents, 1 sister, 1 brother-in-law, 1 niece, 3 aunts, 2 uncles, 3 first cousins, 2 second cousins, 8 first cousins once removed, and 2 cousins' partners. Thanks to my family for being really fabulous."
Here's a rough map of the trip, which was about 900 km (560 miles) of driving: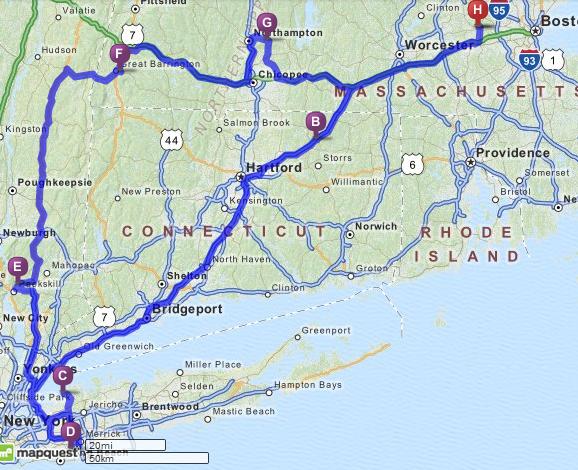 Margie and I are both still recovering from the excessive eating we did on this trip.


#0211 *FAMILY1 *FAMILY2
Next in blog
Blog home
Help
Next in memoirs
Blog index
Numeric index
Memoirs index
Alphabetic index
© 2014 Lawrence J. Krakauer Click here to send me e-mail.
Originally posted January 2, 2014

Footnotes (click [return to text] to go back to the footnote link)
Note 1: The main reason for the change this year was that Elissa, Ryan, and baby Darwin were traveling to Pennsylvania to celebrate the holiday with Ryan's family. As it turned out, they never made it. As they reached Sturbridge, Massachusetts, about an hour from their house, both Ryan and Darwin came down with a nasty stomach bug. They were forced to turn back, the illnesses lasted several days, and the entire trip had to be canceled. [return to text]
Note 2: We're apparently not the only Jewish family to traditionally eat Chinese food at Christmas. A photo has been circulating on the Internet for years showing a sign that says, "The Chinese Restaurant Association of the United States would like to extend our thanks to The Jewish People. We do not completely understand your dietary customs, but we are proud and grateful that your GOD insists you eat our food on Christmas". There's even a Snopes.com page discussing this, with a picture of the sign.
Another joke about the fondness of Jews for Chinese food is often circulated around the time of the Jewish New Year. It says something like, "The Jewish year is 5766. The Chinese year is 4702. This means that Jews had to exist 1,063 years without Chinese food - a time known as 'the Dark Ages'!" [return to text]
Note 3: The movie, written largely by Emmie and Sara, was a lot of fun to make, but it may be mainly of interest to family members who know us well. But if you really want to see it (on YouTube), click on its title here: Captain Winter Saves the Day (you can't find it in a YouTube search). It's 3 minutes 11 seconds long. I play the villain.
Once she's shot all the pieces, it's amazing to me that Sara can assemble a pretty professional-looking film, including music and titles, in an hour or two. [return to text]