#0185


Fifty years (ter)

Here's one more blog entry on my recent fiftieth MIT reunion, with a small selection of photos from the event. As president of the class, I chaired the Reunion Planning Committee that put it together, with significant help from the MIT Alumni Association. At the end of this entry, you can find a list of the various activities we arranged. I didn't take any photos myself, so all the photos in this entry were taken by others.

You can click on most of the photos below to see a larger version - return with your browser's "Back" button.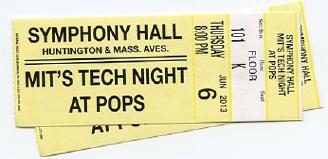 Although we had what we called a "Retreat" portion of the reunion on Cape Cod, I'll start here with the event that kicked off the on-campus portion of the reunion, a Boston Pops Orchestra performance at Symphony Hall called "Tech Night at the Pops".
Our ticket stubs from the event can be seen to the left. As president of the class, I was seated right in front of the president of MIT L. Raphael Reif and his wife Christine Chomiuk, and my table was treated to a complimentary bottle of wine. On the other hand, a bottle of water cost us about $15.
President Reif didn't come down to his table until after he had spoken from the stage - he's shown below with his wife Christine: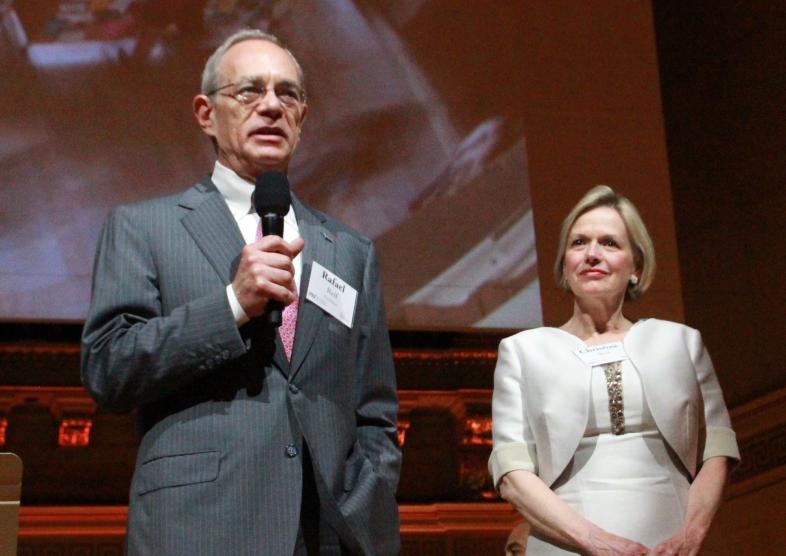 Photo by Laurence N. Beckreck
Here's the usual Pops ending with "Stars and Stripes Forever", with a balloon drop: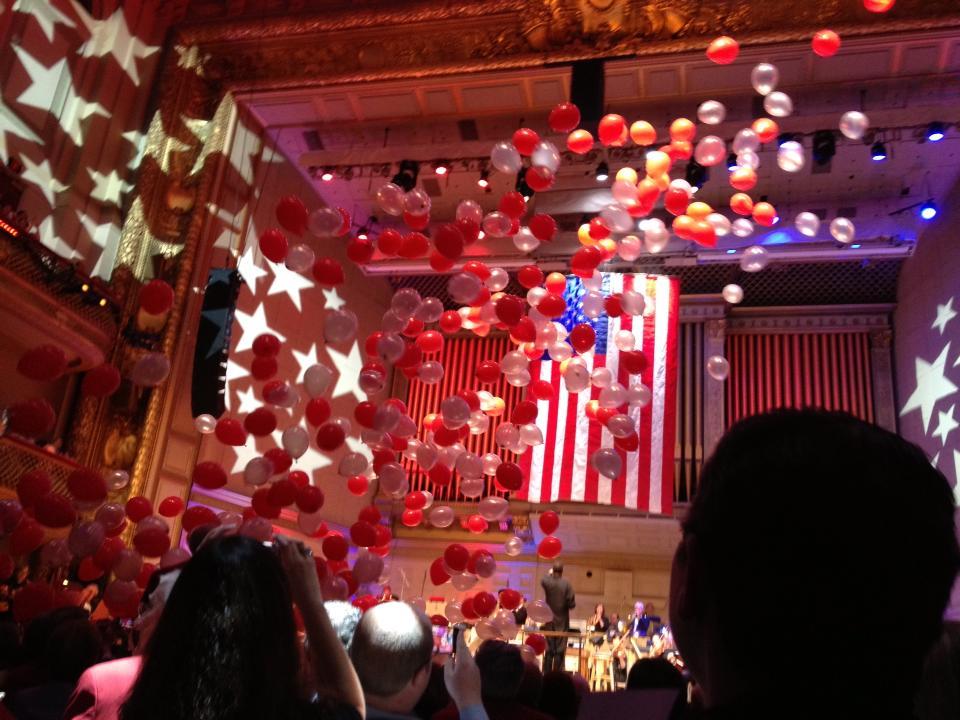 Photo by Ron Young
In my last entry, Fifty years (bis), I included a photo showing me watching MIT's commencement in my MIT-issued rain parka, taken from the large "jumbotron" display. Below is a picture of our procession forming up to march into Killian Court. You might notice that we're walking on Memorial Drive, a major road in Cambridge that was briefly closed for the occasion: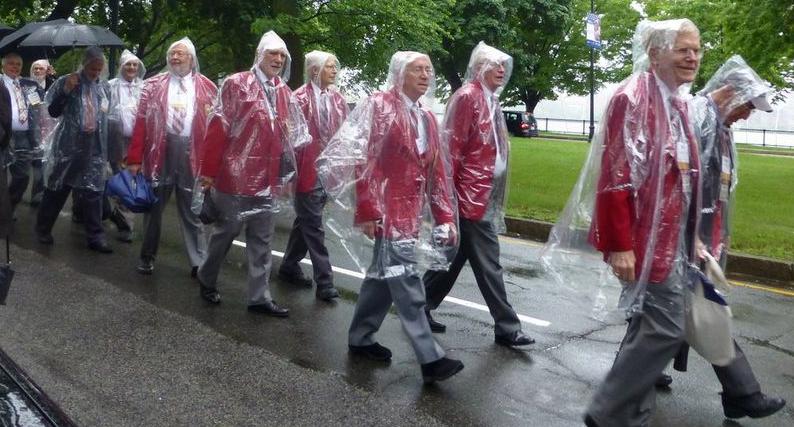 Photo by Lois Flaherty
After we had filed in, the seats to our left were filled by graduates about to be awarded diplomas. I noted a professor in his academic robes using a towel to dry seats for his incoming students. I got up, walked over to him, and told him that I was glad to see a professor going the extra mile to keep his students comfortable. He replied, "This is what I got my degree for."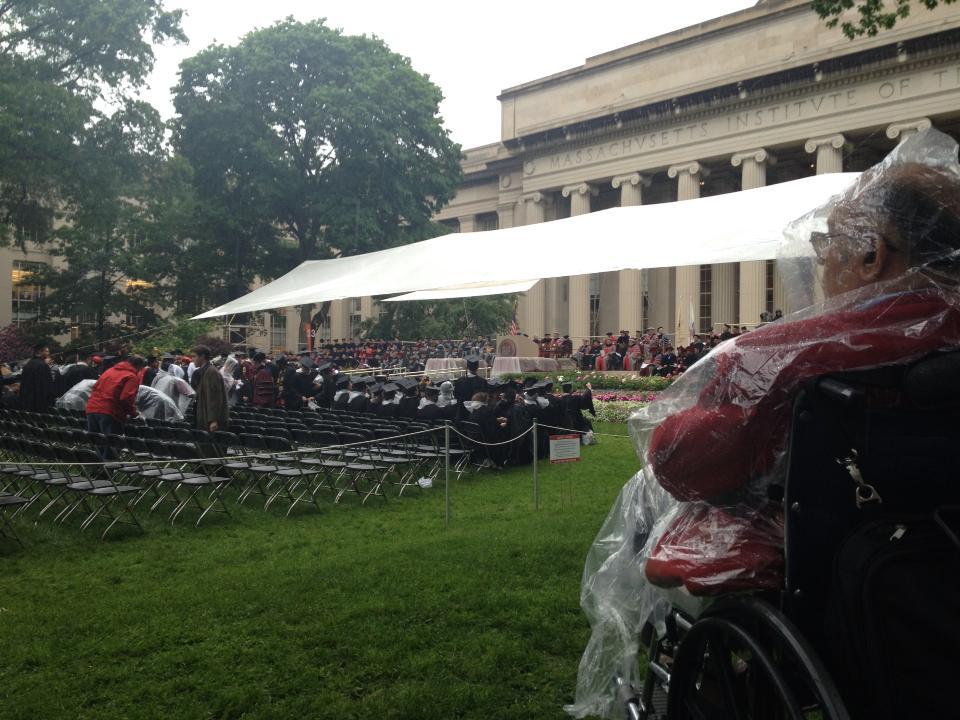 Photo by Ron Young
Note that at our age, there were a few classmates with mobility problems, like the classmate shown above in a wheelchair.
We didn't stay for the entire reunion. After the Commencement address by Drew Houston, the founder of Dropbox, we all quietly snuck out via a side door, and went off to the all-class Commencement Luncheon. At this luncheon, the various "Class Gifts" are presented to MIT. For the 25th, 40th, and 50th reunion classes, the Class Gift counts all actual donations starting a year prior to the reunion, and all pledges for the five years after the reunion.
Prior to the reunion, donations were solicited by a Gift Committee put together by our two class Gift Committee co-chairs, Bob Johnson and Martin Schrage (they were appointed by me in my role of class president). Bob and Martin are shown below announcing the gift at the luncheon: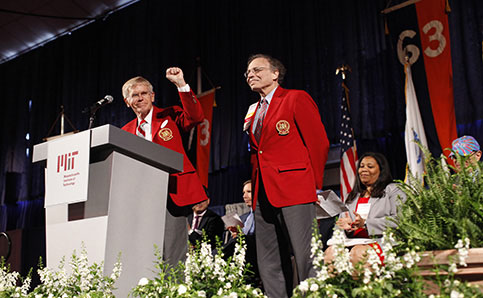 They announced a gift from our classmates of $43,708,789, with 69.06 percent participation.
I was quite taken by Robert's remarks prior to announcing our class gift. If you'd like, you can read his talk here.
Skipping over quite a few events, let me end with a photo of our Gala dinner dance on Saturday:


Panorama taken by Julia Pyle, granddaughter of Roger Pyle, VIII
Here's a picture of Margie and me at the gala. By the end of this event, on the fifth day of festivities, I was pretty exhausted, with one more event to go on Sunday morning.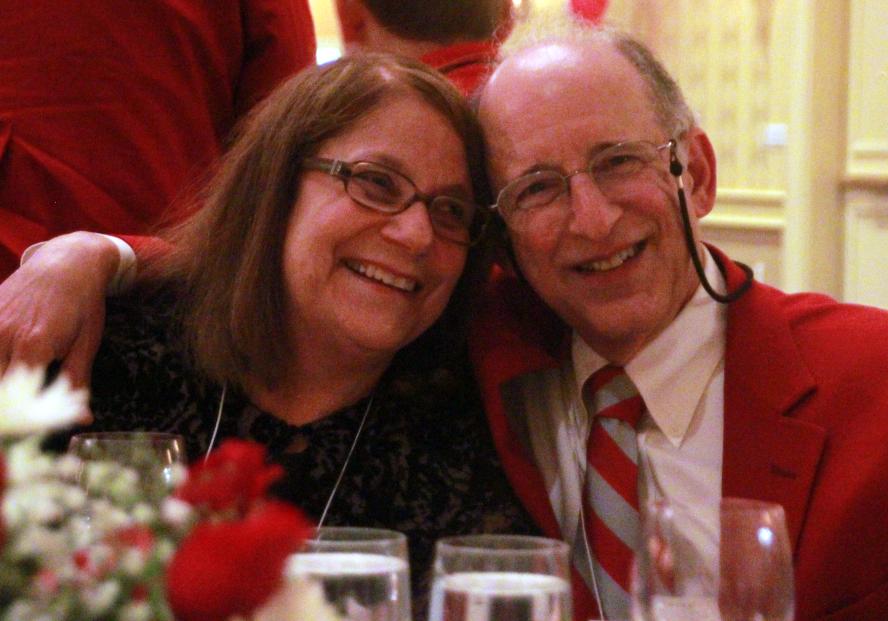 Photo by Laurence N. Beckreck
In addition to being class president, I've also been serving as acting class webmaster. In that role, I've posted a page on the MIT Class of 1963 web pages with a summary of our fiftieth reunion. So if you want even more about it, you can see that page here. It's very much under construction as I write this - I anticipate adding much more to it in the future, particularly if people send me more photos.
It was a once-in-a-lifetime event, and was enjoyed by all.
---
Here's a full list of the reunion events
Tuesday, June 4: Cape Cod "Retreat", Sea Crest Beach Resort, Falmouth, MA
6:00 p.m. Welcome Clambake Buffet
Wednesday, June 5: Second day of "Retreat
2:00 p.m. Tours of the Woods Hole Oceanographic Institution (WHOI)
5:30 p.m. 1963 Cape Cod Dinner at the Captain Kidd Restaurant
Thursday, June 6: Start of on-campus reunion
5:00 p.m. Pre-Pops Buffet Dinner, Boston Marriott Cambridge
8:00 p.m. Tech Night at Pops, Symphony Hall, Boston
Friday, June 7: - MIT's Commencement
8:00 a.m. Commencement Breakfast, Walker Memorial
10:00 a.m. Commencement Exercises: We marched in the Commencement Procession
12:00 p.m. Commencement Luncheon, Stratton Student Center, Sala de Puerto Rico
3:00 p.m. Living Group Open Houses (I attended a Baker House Dormitory event)
4:30 p.m. 1963 Classmate Speakers Program, Stata Center, Kirsch Auditorium.
6:30 p.m. Casual Reception, Stata Center
7:30 p.m. Casual Buffet Dinner, Brain and Cognitive Sciences
Saturday, June 8: "Technology Day"
7:30 a.m. Reunions Saturday Breakfast, Maseeh Hall, W1
9:00 a.m. Technology Day Program on the human brain, Kresge Auditorium
1:05 p.m. Technology Day Luncheon, Johnson Athletic Center
5:30 p.m. President's Reception, Gray House
7:30 p.m. Gala Dinner, Boston Marriott Cambridge
Sunday, June 9:
7:30 a.m. Reunion Row, Harold W. Pierce Boathouse
10:00 a.m. Farewell Brunch, Marriott Hotel, Cambridge

#0185 *MIT
Next in blog
Blog home
Help
Next in memoirs
Blog index
Numeric index
Memoirs index
Alphabetic index
© 2013 Lawrence J. Krakauer Click here to send me e-mail.
Originally posted June 20, 2013