#0184


Fifty years (bis)

In last week's blog entry, written after the "Retreat" portion of our reunion held on Cape Cod, here's what I expected to look like the following day (Friday, June 7, 2013), marching in MIT's commencement procession: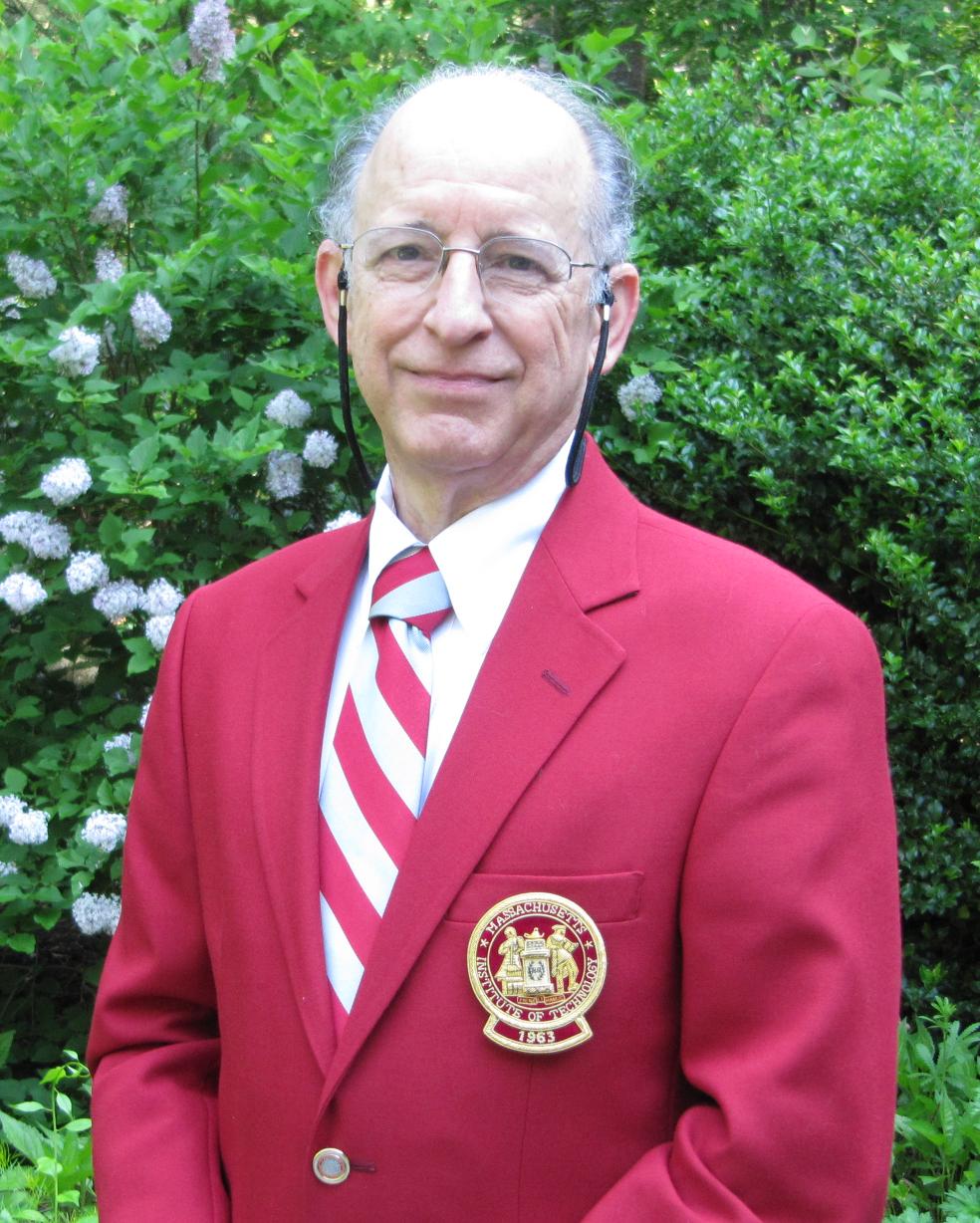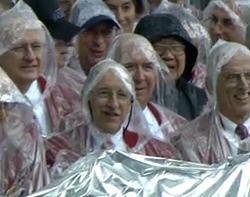 Instead, how I actually looked is shown to the left. Roberta McCarthy, Operations Manager of MIT's Venture Mentoring Service, was in the crowd, and saw my picture pop up on the "Jumbotron" display screen during the ceremony. She snapped a picture of the screen with her cell phone, and sent it to me as an e-mail attachment.
In other words, it was raining. The red jacket, and the rest of the outfit, were under the MIT-supplied plastic poncho, but were a bit hard to see. MIT only moves the ceremony indoors in the event of really dire weather - a little rain doesn't faze them.
Despite the rain on Friday, our reunion was a resounding success. As president of the MIT Class of 1963, having been deeply involved in the planning, I was relieved to see it go off basically without a hitch, and a good time was had by all.
My friend and classmate Larry Beckreck came to the reunion from Nottingham, England, and stayed with us for a nice two-week visit (his wife Fiona was not able to join him for this trip). You may recall that in 1964, Larry and I spent a summer together on an internship at the Electricité de France near Paris, as reported in my blog entry Le Stage.
Here he is with Margie and me on the day after the commencement, Saturday, June 8. We were about to be received by the president of MIT, Raphael Reif, at his home, Gray House, on Memorial Drive in Cambridge, Massachusetts. Behind me, you can see the Prudential Building in Boston, on the opposite side of the Charles River.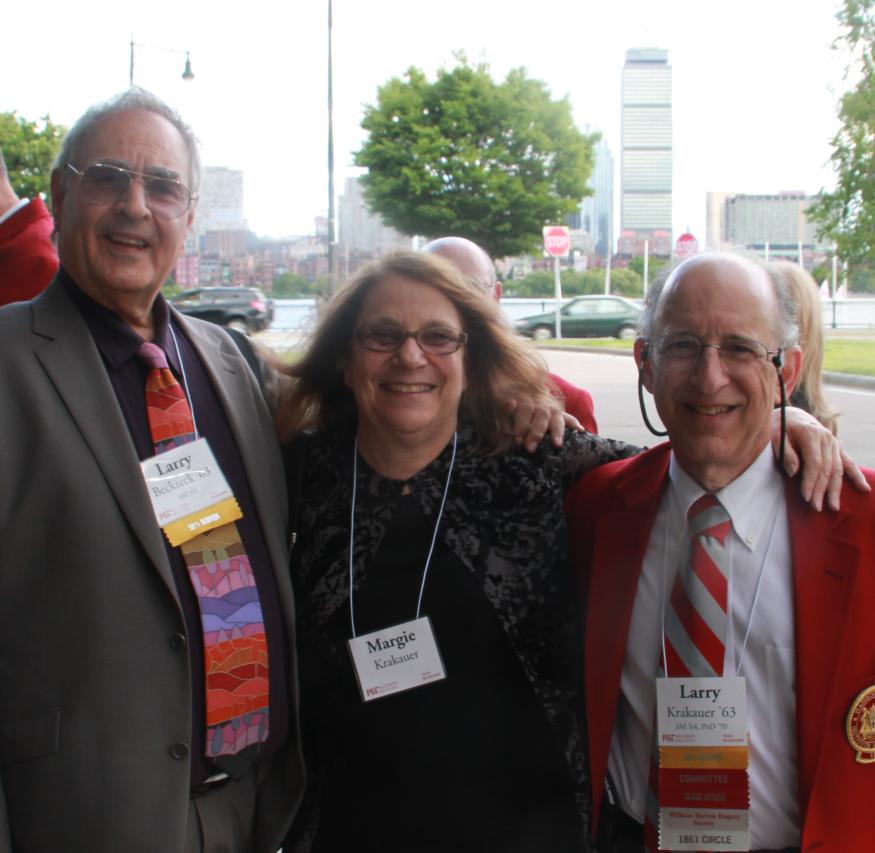 Larry had a few things he wanted to do while in Boston, in addition to attending the reunion. He wanted to have lunch at Durgin Park, a restaurant which is an old Boston landmark. He wanted to go for a sail on the Charles River at the MIT sailing pavilion. He wanted to walk around Walden Pond. And of course he wanted to shop for souvenirs at the MIT "COOP" (the MIT branch of the Harvard Cooperative Society). We accomplished all of these.
At Durgin Park, he had Roast Beef, and their classic Indian Pudding for dessert. For our sail, we arrived at the MIT Walter C. Wood sailing pavilion before they opened for the day. But Matthew Lindblad nevertheless let us take out a boat.

The pavilion didn't look all that different from when I sailed there as a student. Behind the desk, you could still see the wooden drawers containing an index card for each member. For MIT, this seemed rather low-tech - you'd think the system might have been computerized by now. But it worked just fine.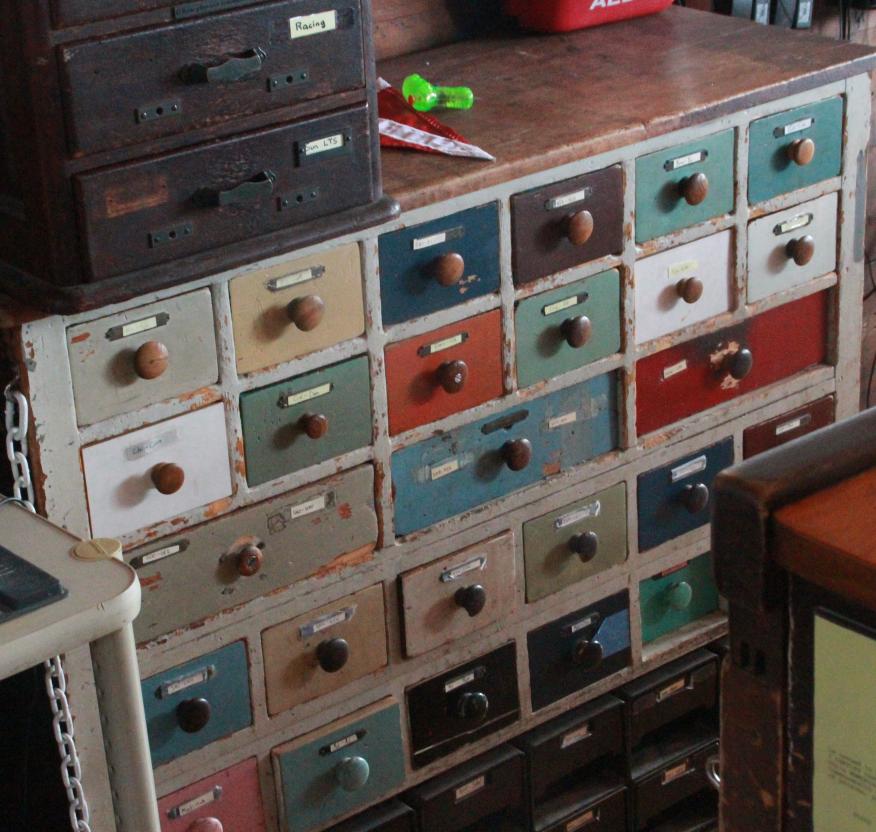 And there was the last card I had at MIT, from my final graduate student year, 1970, filled out in my old messy printing (which still looks about the same). It was still on file, 43 years after I had last used it.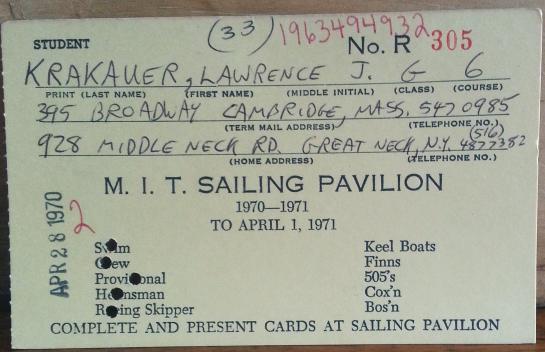 Matt rigged a boat for us, and out we went, on a moderately windy day, undeterred by a light drizzle. Matt actually took out the motor launch and took a picture of us on the water: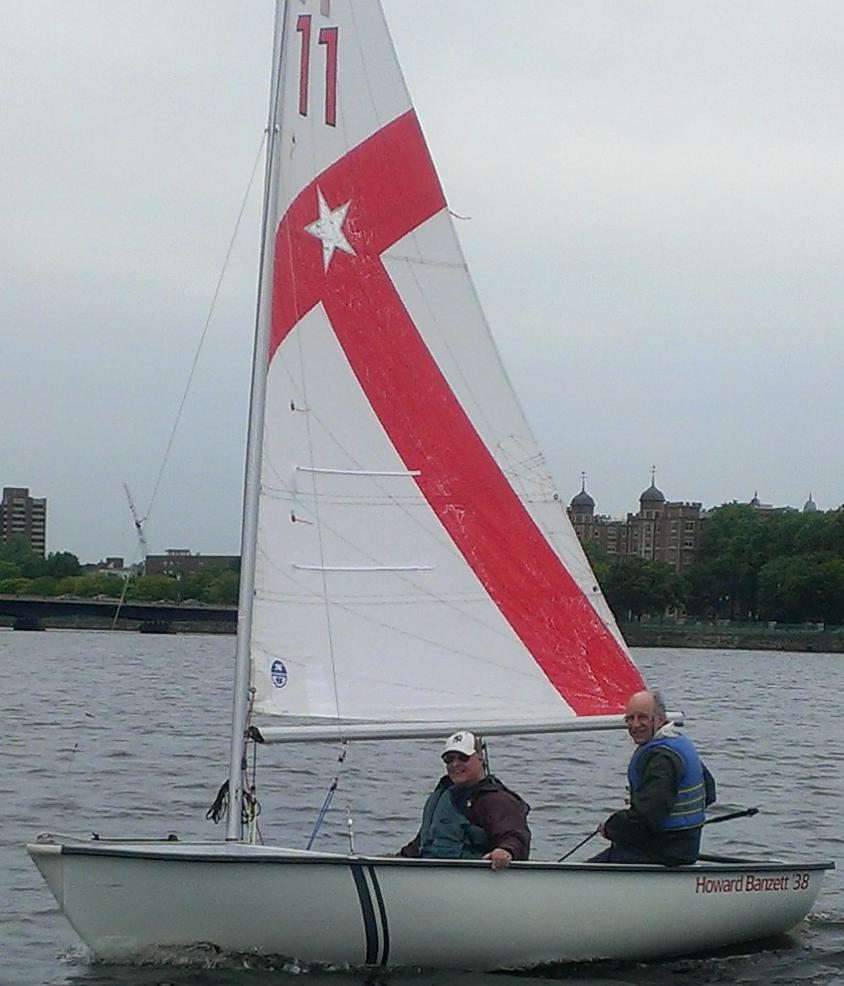 By the end of the Saturday Gala Dinner Dance, after six days of nearly non-stop activity (with one more still to go on Sunday morning), I was pretty wiped out. OK, maybe I was hamming it up a bit: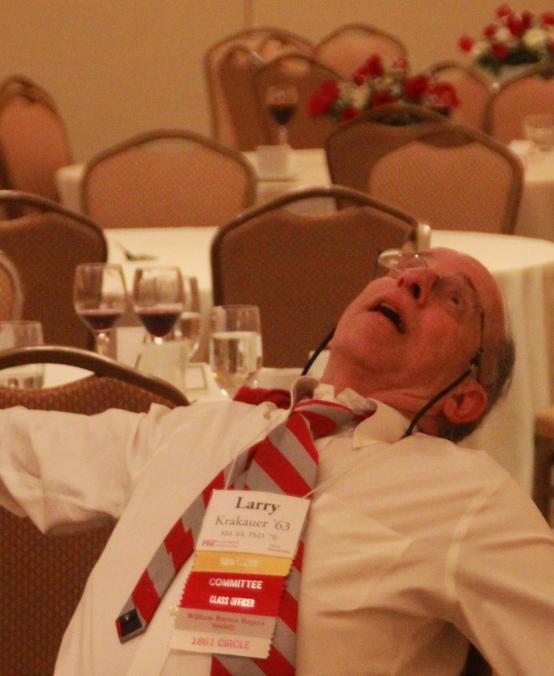 Sorry this blog entry is a bit rambling - I'm still recovering. But it was a great reunion - a once in a lifetime event.

#0184 *MIT
Next in blog
Blog home
Help
Next in memoirs
Blog index
Numeric index
Memoirs index
Alphabetic index
© 2013 Lawrence J. Krakauer Click here to send me e-mail.
Originally posted June 13, 2013