#0187


Forty-three years

Even as a child, my daughter Elissa was very observant (she eventually became a scientist). She once noted that in our family, when we're happy, we celebrate by eating, while when we're sad, we console ourselves by eating. Indeed, eating is a big theme in our lives. It's our biggest single entertainment expense.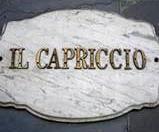 So for the 43rd anniversary of our marriage, we planned a nice meal out, as usual. We chose the Waltham restaurant Il Capriccio, and booked a table online, using the website Open Table.
Upon arriving, we gave our name and mentioned our Open Table reservation. Without looking at her computer, the hostess said, "Oh yes", and promptly seated us. I was surprised that she immediately recognized our name. But I figured that she might have consulted her list for 6:30 arrivals shortly before we had showed up.
We weren't seated very long before the same hostess arrived, scattered a small collection of festive metalized hearts and other decorations on the table, and wished us a happy anniversary. This was even more of a surprise, since we hadn't said anything at all about our anniversary in making the reservation. We wondered how the restaurant possibly could have known about it.
We had eaten there in the past, but not for quite some of time. But Margie does receive periodic e-mail messages from the restaurant, so we figured we must have given them the information when we originally registered for their mailings. That seemed to be the only explanation.
Our waiter was a tall Frenchman, who had a noticeable French accent despite having lived in United States for 25 years. I chatted with him in French a bit, and mentioned our curiosity about the restaurant knowing that it was our anniversary. He readily agreed with our suggestion that the restaurant must indeed keep a record of anniversaries and birthdays in their computer.
We had an excellent meal, including a nice bottle of wine recommended by the sommelier (although only a half bottle for the two of us, which is about our limit these days). Margie started with "Ricotta and Thyme Stuffed Zucchini Flowers Drizzled with Abele's Honey", a fabulous dish that was even better than the version of it she had once eaten in Venice. For a main course she had an unusual potato gnocchi dish with a Bolognese sauce. I started with "Black Figs Stuffed With Gorgonzola, Wrapped in Prosciutto, Served on Caramelized Onions", and went on to a soft-shelled crab entrée. All our dishes were outstanding.
The man who cleared away our plates handed us dessert menus, which I gather was part of his routine service. But we had barely begun to contemplate them when our waiter mysteriously whisked them away, saying, "Those are not for you." We contemplated that turn of events for a while. I wondered if the restaurant, mysteriously knowing that it was our anniversary, was going to bring us a piece of cake with a candle in it, and have the waiters gather around to sing "Happy Anniversary to You". I should have known this restaurant wouldn't stoop to such pedestrian measures. Instead, they brought us a couple of desserts which had been mysteriously pre-chosen.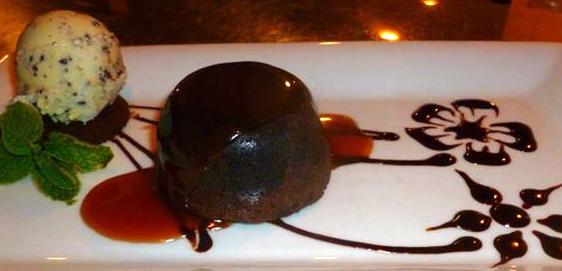 While there was indeed a cake with a candle on top, the cake was a "Warm Chocolate Budino with Caramel Sauce and Mint Chocolate Chip Ice Cream" (shown to the right in a picture taken from the restaurant's Facebook page). It was accompanied by a second dessert, a "Warm Strawberry Rhubarb Crostata with Vanilla Ice Cream and Rhubarb Brodo".
It was only after dessert that everything became clear, when the hostess came over to our table and handed us an envelope. The card inside said, "Happy anniversary, with love, Elissa & Ryan & Darwin". The hostess informed us that our daughter Elissa and son-in-law Ryan had orchestrated the whole affair, with help from our granddaughter Darwin (probably very little help, since she's only four months old). They were treating us to our entire meal. We were incredibly touched by this gesture.
We knew immediately (and it was subsequently confirmed by Elissa) that the idea for the gift must have come from Ryan, who has an uncanny ability to pick up checks in unexpected ways. He once told me he learned these methods from his brother Kip, who used them to treat Ryan to dinners and other events.
Now, we didn't even recall that Elissa and Ryan had known anything about our dinner plans. But in a visit the day before our anniversary, we had apparently mentioned it to them. It was then that Ryan had hatched his idea, and he had grilled us about the details, but so subtly that we hadn't noticed it. Elissa said later that Ryan had kept casually coming back to the topic, even as I talked about other things, until he had all the information he needed (which restaurant, how the reservation was made, the time of the reservation, and so on).
While Ryan will usually allow me to pick up the check when we all dine together, as befits our relative ages and stations (I think a father has the right to be the one to treat his daughter and son-in-law), if Ryan decides that he wants to pay for a meal, it's seldom possible to stop him. I've asked for a check only to discover that Ryan had already slipped the waiter his credit card under the table.
So this episode was only the latest spectacular invocation of Ryan's check-grabbing talents, managing to treat us to dinner despite not even being in the same room. I wouldn't be surprised to one day find ourselves touring Beijing, stopping at a street corner stand for a taste of stinky tofu, and being told that Ryan had picked up the tab.
Allow me to add a few photos to round out this entry. Below is a scan of the card we were handed by the restaurant. You'll notice that the gift was actually ascribed to Elissa, Ryan, and "Earwin". I imagine that "D-A-R-W-I-N" got transcribed over the phone as "E-A-R-W-I-N" ("DEE" can easily be heard as "EEE"), especially since Darwin is an unusual name. But since the restaurant pulled off the entire surprise so skillfully, we can forgive them a minor misspelling, since we obviously knew who they meant.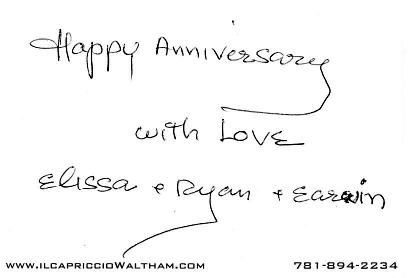 And finally, our Chocolate Budino plate didn't look exactly like the one shown above. Rather, the platter it came on was specially decorated for our anniversary, as you can see below. Unfortunately, I didn't think to take a picture of it with my cell phone until after we had polished it off (and as you can see, we polished it off quite thoroughly). But enough was left of the decoration on one end of the plate to give you an idea. The word "Anniversary" was written on the other end of the plate, and you can see a few of the small metalized hearts that had been scattered on the table: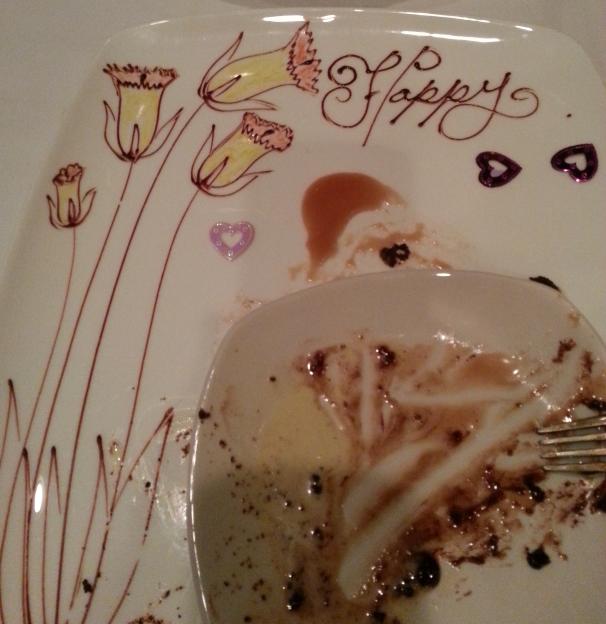 This was one of the best meals we've had in recent memory, and a wonderful celebration of our 43rd anniversary. Thank you, thank you, Elissa, Ryan, and Earwin Darwin. Here's a picture of our benefactors: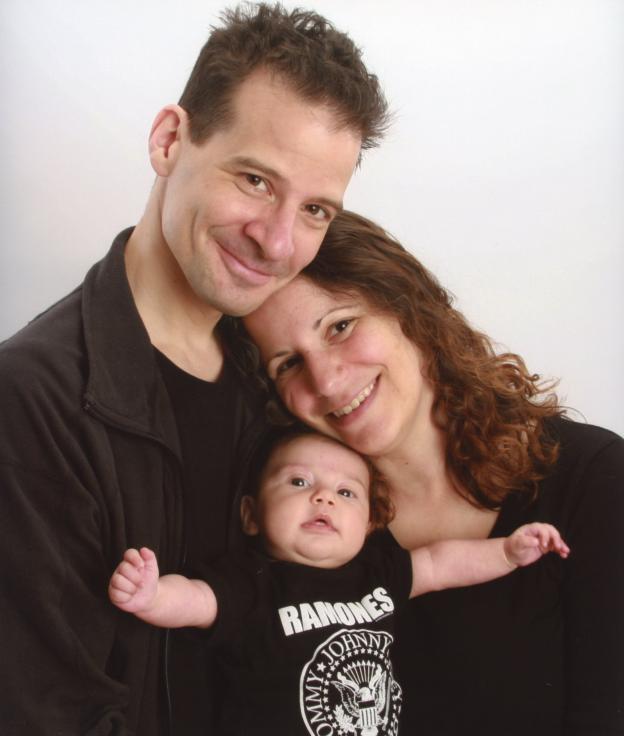 #0187 *FAMILY2
Next in blog
Blog home
Help
Next in memoirs
Blog index
Numeric index
Memoirs index
Alphabetic index
© 2013 Lawrence J. Krakauer Click here to send me e-mail.
Originally posted July 4, 2013