---
Too lazy to pull down the scroll bar? Quick jumps to items below on this page:
Maintaining my French
Robinson Crusoe
Compute the day of the week
Sudoku
Travel
Kronos
The Fibonacci code
2 Larry Krakauers?
Spuds & Tashi
Alpha Watch '08
---
Maintaining my French (click each header to learn more)
Le Cercle Français: Meets every other Wednesday evening in the vicinity of Wayland, Massachusetts (USA) for conversation in French.

French Word-A-Day: Expand your vocabulary by following this lively blog, written by Kristin Espinasse.

L'Ecole des Trois Ponts: In September, 2004, Margie and I studied French for a week at the Ecole des Trois Ponts near Roanne, France.

French in Acton: My wife Margie studies French with Mme. Cynthia Edelman, director of French in Acton, which provides individual and group French instruction in Acton, Massachusetts (USA).
---
Camp Robinson Crusoe
Many moons ago, I attended Camp Robinson Crusoe in Sturbridge, Massachusetts. About forty years later, in 1999, a reunion was held at Camp Taconic in the Berkshires (Camp Robinson Crusoe no longer exists). Click the logo to the left, or click here, to see old camp photos, photos from the reunion, read some stories about my experiences at the camp, and to find out what's happening on the camp land now.

Did a course I taught make Robinson Crusoe the world's first "Computer Camp"?
---
---
Sudoku!

Like many people these days, I'm having fun solving Sudoku puzzles. But while I like logic puzzles, I don't like to do mechanical work that could be easily automated. So I wrote an Excel spreadsheet that automatically propagates constraints in a Sudoku puzzle. It also helps you spot rows, columns, and boxes in which a particular number could only appear in one position.
Click here to download the spreadsheet.
Or click on this link for some of my notes and musings on Sudoku. You can also link to the spreadsheet download page from there.
---

Click here to learn about some of the trips we have taken.
---
Where do I work?
---
The Fibonacci Code: I am co-inventor, with Larry Baxter, of the Fibonacci code.
| | |
| --- | --- |
| | As a self-clocking serial data code, it is 33% denser than Manchester Encoding or Phase Encoding. |
---
Who is this other Larry Krakauer, and what's he doing in my town?
The town of Wayland, Massachusetts has fewer than 14,000 inhabitants, but it has two residents named "Lawrence Krakauer". Not only that, but we're both MIT graduates working in the computer industry! Actually, he's the local guy, having grown up in Weston, Massachusetts, an adjacent town. I'm an import, having grown up in Great Neck, New York, 330 Km (200 miles) away. It's purely a coincidence. We are not related, and we finally met for the first time after the Wayland Town Meeting in April 2002. I looked around for a photographer to record our historic meeting, but couldn't find one.
Lawrence Krakauer statistics
| | | |
| --- | --- | --- |
| | Me | Him |
| Nickname | Larry | Larry |
| Middle initial | J. | A. |
| MIT degree | Ph.D. ' 70 Electrical Eng. | SM ' 80 Management |
Spuds and Tashi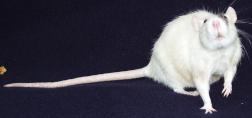 Click on one of the pictures above to learn about my daughters' pets: a pet rat named "Spuds", and a pet cockatiel named "Tashi".
Alpha Watch '08

During the Presidential primaries of 2008, my sister Alice, who has a Ph.D. in psychology, noted that biologically, "We're wired to follow an alpha -- one who's virile, charismatic, and confidence-inspiring." She posted a web page on this subject (with her alpha ranking of the candidates). Click on the picture, or this link: Alpha Watch '08 . Alice also designed and built Margret's web page at http://MargretKrakauer.com/, and Peter Jeswald's at http://peterjeswald.com.
---
Hosted By

PowWeb has done an outstanding job hosting my website.
I've experienced almost no downtime, and my pages load rapidly.
Click their banner just above to learn more about them.
---
Click here to send me e-mail.
Last updated June 17, 2010, to add a link to PowWeb