#0257


Windows 10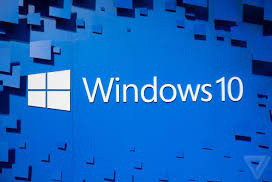 When I retired in October of 2003, Margie laid down a couple of conditions. First, she quoted the title of a well-known book, saying, "I married you for better or for worse, but not for lunch." She has no objection to having lunch with me, but she doesn't feel responsible for preparing it. Her second condition was that with me potentially hanging around all day, she had to have her own computer. Up to that point, we had been sharing a single computer. She had exclusive use of it all day while I was at work, and she gave me pretty much exclusive access in the evening.
So Margie and I now each have a desktop PC. We have always run Windows PCs (as opposed to Apple products), because that's what I had always used at work, and hence was what I was familiar with. Not long ago, we progressed from Windows XP to Windows 7. And then recently, Microsoft has been urging us, almost daily, to upgrade to Windows 10. Here's our history of those upgrades:
Margie's upgrade: A number of weeks ago, Microsoft changed the status of the Windows 10 upgrade from "recommended" to "important". Most users of earlier versions of Windows were set up by default to automatically install "important" upgrades, so Margie's machine one day upgraded automatically to Windows 10, without her having given explicit consent. Although we were quite annoyed about that, the upgrade went off without a hitch, and once it had been accomplished, we decided to stay with it, and not "revert" to Windows 7. At that point, I changed my upgrade settings to only upgrade if I explicitly gave the OK, so my machine wouldn't do the same thing as Margie's had.
My upgrade: But as the free upgrade period for Windows 10 approached an end (7/29/16, after which there would potentially be a charge of $119), I decided I wanted to try to upgrade. Note 1 This was against the advice I got from our support people at PC Healthstop, who suggested I stay on Windows 7 until such time as I would buy a new computer. While I highly recommend them for computer support (we have both of our computers on a support contract there), in this case, I didn't follow their advice.
I decided that the chance of a problem so serious that I would lose the ability to "revert" was small. Also, the frequent messages I was getting urging me to go to Windows 10 claimed they had scanned my computer, and determined that it was ready for the upgrade (this actually turned out to be misleading - see below). And finally, having seen Windows 10 running on Margie's computer, I liked it (even though neither of us has a touch screen).
On Tuesday, 7/26/16, I started my upgrade a bit before 6:00am. It began downloading the needed files, and this process took hours. It started fast (according to the reported "Percent complete" indicator), but gradually slowed down, to the point that when I left at 9:15am for a meeting at MIT's Venture Mentoring Service, the preparation process was only 98% complete. And then, when I returned a bit before 2:00pm, about 8 hours after I had started the process, it seemed to be hung up at 99%.
Thus, at 2:00pm, I went on a Microsoft web page looking for support. The support page told me to log in to my Microsoft Account. I thought to myself, "Huh? I have a Microsoft Account?". But when I checked my password records, I discovered that indeed I did have such an account. I got the password, logged in, and initiated a chat with an agent named Satyendra S. I must say, I was impressed that it took very little time, probably 10 minutes or so, to be connected to a live agent!
Satyendra took remote control of my computer, with my permission, and poked around a bit. The upshot of the chat was that my particular Dell Vostro computer had not been tested for compatibility with Windows 10, so he advised me to not do the upgrade. He also claimed he had cancelled the upgrade I had started earlier. Oh, well. Given the age of my computer, it seemed that PC Healthstop had given me good advice.
Except while working a bit later in the day, my computer suddenly locked up completely, and I had to do a hardware shutdown by holding the power button for about 10 seconds. When I subsequently restarted the computer, it launched into a Windows 10 upgrade that could not be stopped.
When the upgrade was complete (I didn't record the time taken, but it was less than 2 hours), almost everything seemed to be working, except two peripherals: My Epson Perfection V500 Photo scanner, and my GearHead Netgear webcam.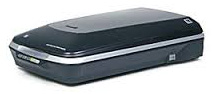 Fixing the scanner: My desktop shortcut to "Epson scan" had actually disappeared! I went to the Epson support site, and downloaded the latest drivers for my scanner. After that, the "Epson scan" shortcut icon re-appeared, and the scanner started working. By the way, it's a great scanner, with instant-on LED illumination.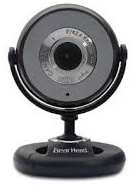 As for the Netgear webcam: The desktop shortcut icon for the camera (the "Webcam VideoCap" icon) did NOT disappear like the "Epson scan" icon - it remained on the desktop. If I clicked on it, the program started, opening a window that normally displays what the camera is seeing. But this was followed by a Windows 10 crash, showing the error message KERNEL_SECURITY_CHECK_FAILURE, followed by an automatic restart. I went to the GearHead site and downloaded the latest drivers, but despite that, the same error and restart recurred.
Clearly the Netgear webcam drivers were not compatible with Windows 10. Well, this was quite an old camera that I had bought at Micro Center (Cambridge) way back in 2012 for only $12.99, so I was not unhappy to write it off after nearly four years of use.
I went out and bought a new Logitech webcam at Staples for under $20, and plugged it in. No other installation was needed - Windows 10 dealt with it automatically. It informed me that an "App" was available to go with the camera, but then told me that the App is not currently available, giving me no immediately obvious way to test the camera.
But since my main use of the camera will be for Skype, I Googled "Skype camera test", and in Skype selected "Tools >> Options >> Video settings". This brought up a camera window, which showed the camera to be working. The Logitech camera, a 5 Megapixel camera, also proved to take images of far superior quality to my earlier 1.3 Megapixel Netgear camera. On that very same day, I used my new camera for a video call to a Skype-pal in Italy with whom I chat in English and Italian.
My Windows 10 password: While playing around with Windows 10, I subsequently nearly got locked out of my own computer due to something Microsoft's software did that I consider to be incredibly stupid. Out of curiosity, I decided to try "Cortana", which sits at the lower-left corner of my screen, and says, "Ask me anything". This is an Apple-Siri type service that responds to spoken questions. When I clicked on it for the first time, I was told once again that I had to log in to my Microsoft Account, and I did so.
At that point, a dialog box appeared on the screen with quite a bit of text in it. I suspect that most users would simply ignore the text, and click on "Next", or whatever it was I needed to do to proceed. But fortunately, being a somewhat obsessive-compulsive engineer, I actually read it (I'm a part of that older generation that actually reads manuals and stuff like that). And embedded somewhere in the middle was the news that my Microsoft Account password would henceforth become my Windows 10 password.
Now, I quite deliberately had never set up a password for any of my versions of Windows. That's the way I like it - this installation of Windows 10 runs on a desktop computer, which is not carried out into the world like a laptop. I assumed that Microsoft would not be so stupid as to assign me a Windows 10 password without explicitly asking my permission to do so, and without making absolutely sure that I acknowledged that I now would need a password to log in to Windows 10.
But that's exactly what they did! Because the next time I restarted my computer, I was asked for my password, and a simple "Enter" was not the right answer! Had I not carefully read the information screen I described just above, I would not have known which password they were asking for. I wonder how many thousands of users are getting locked out of their own computers by this Microsoft decision.
There's information on-line about how to reset your Windows 10 password, but of course a user who can't get in to his or her machine can't search for this information. Catch-22.


#0257 *TECHNOLOGY
Next in blog
Blog home
Help
Next in memoirs
Blog index
Numeric index
Memoirs index
Alphabetic index
© 2016 Lawrence J. Krakauer Click here to send me e-mail.
Originally posted July 28, 2016

Footnotes (click [return to text] to go back to the footnote link)
Note 1: Although at least one computer industry analyst thinks Microsoft won't follow through on raising the upgrade price - see 'Free' Windows 10 Has An Expensive Secret, by Gordon Kelly, on the Forbes.com site. [return to text]