#0235


Wayland 375

We bought our house in the town of Wayland, Massachusetts in 1972, and have lived here ever since. The town itself was the first settlement of Sudbury Plantation in 1639, so it just celebrated its 375th anniversary. Wayland is one town to the west of Route 128, Boston's circumferential highway (the town of Weston, to our east, abuts that road). Wayland was thus a very convenient place to live for someone like me who worked in the area's high-tech industry. Using Route 128, I was able to commute either north or south to any of the high-tech companies clustered along that road.

The anniversary celebrations, which have been going on all year, culminated in a parade last Saturday. It ended in the fields behind the town building, where various booths were set up. One of them contained a large anniversary "quilt cake", described by the banner shown below: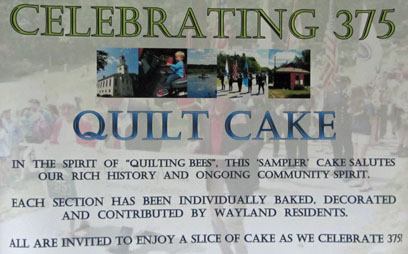 Here's the central portion of the cake itself, although the picture isn't wide enough to show the whole thing. It comprised a 6 x 12 array of identically sized square cakes, each one decorated in honor of the occasion by a different Wayland resident (or in some cases, by a Wayland business):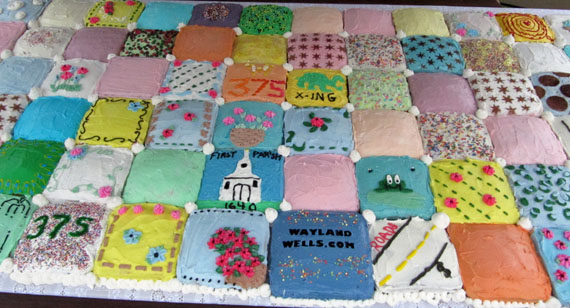 Margie didn't watch the parade. Rather, she manned the Arts Wayland desk, as shown below, trying to drum up membership and support for that organization. Arts Wayland supports the arts in our town. Currently, Margie is treasurer.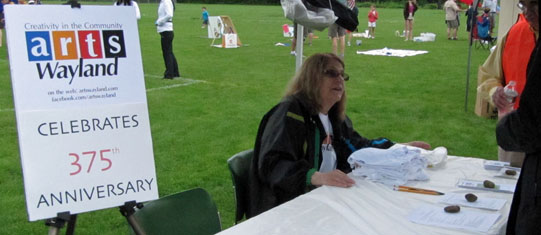 Here are some photos of this fairly typical small-town USA parade: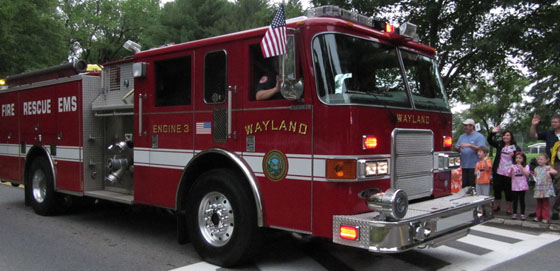 Police and fire led off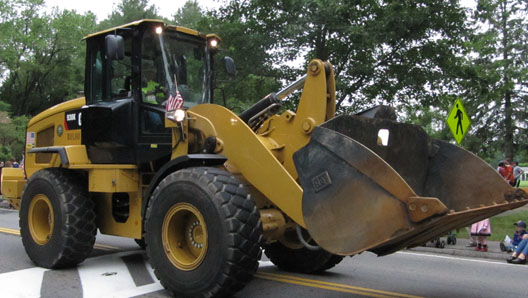 Many other town vehicles followed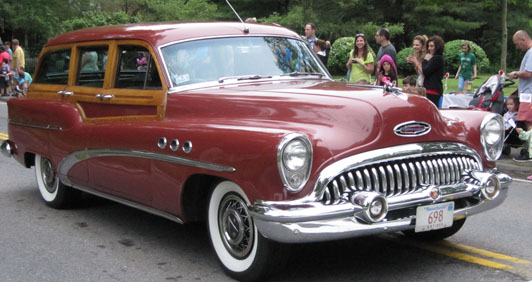 Quite a few antique cars participated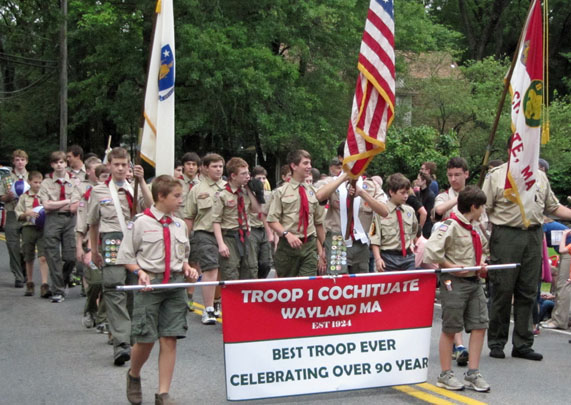 Of course, the Boy Scouts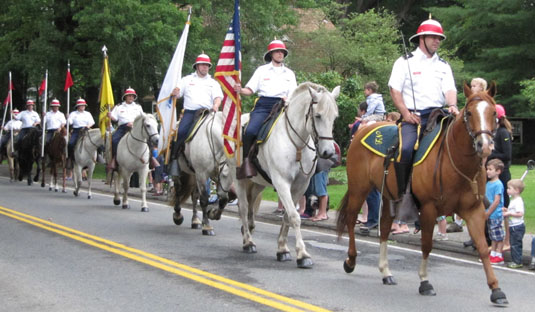 ... and some horses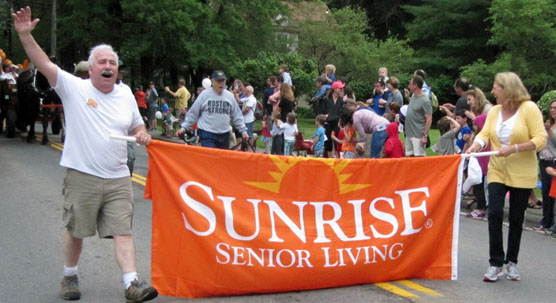 Banner from a local senior residence
It was nice to see the marcher (above) from a local senior residence still going strong at the end of the three-mile march (4.8 km).
The photos shown above are only a small sample of the participants in the parade. It also included military contingents, trucks from the adjacent towns of Weston and Natick, floats from various local churches and other organizations, a rock band on a flatbed truck, and so on.
At the end of the event, the cake was cut up and distributed (the start of that process is shown below). As we were leaving, it seemed that only about half of the cake had been cut up and given out, and we took an entire square home to have for dessert later that evening.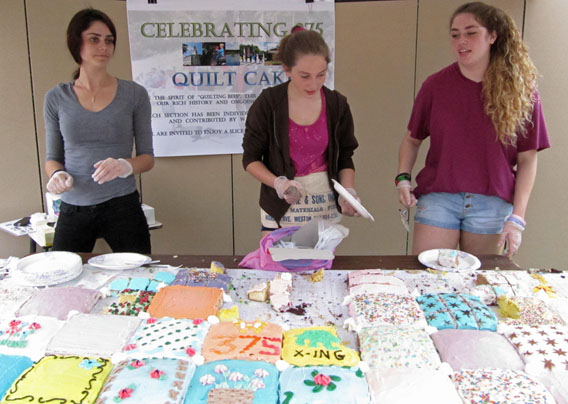 All above photos by Larry Krakauer
Margie and I didn't attend the final event, an outdoor evening dance. It culminated after dark in the burning of a burlap-wrapped wood frame in the shape of a heron, a large bird seen frequently around here. Our friend Fran Patterson posted the photos below on Facebook: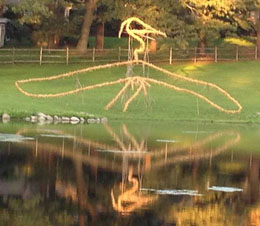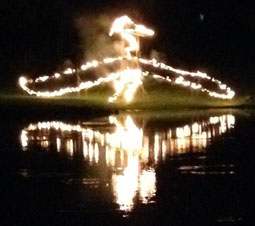 Heron photos by Fran Patterson
All in all, a fitting end to Wayland's 375th anniversary celebration.

#0235
Next in blog
Blog home
Help
Next in memoirs
Blog index
Numeric index
Memoirs index
Alphabetic index
© 2014 Lawrence J. Krakauer Click here to send me e-mail.
Originally posted June 19, 2014