#0237


Forty-four years

As I've previously reported, we invariably celebrate happy events with a nice dinner, and for our 44th wedding anniversary this year, we continued the tradition. We're shown below at Harvest, one of our favorite Cambridge restaurants. The pictures below were taken as we were starting dessert (more about those desserts later):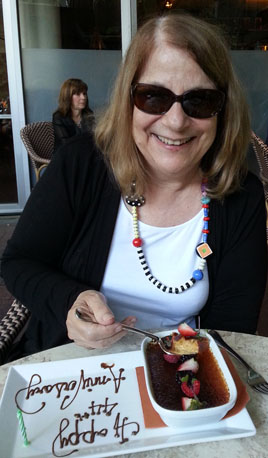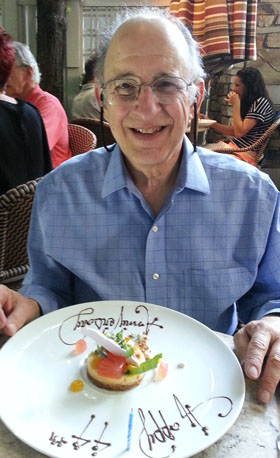 The Cambridge Historical Society has a page on Harvest, called Culinary Cambridge. It notes that, "Julia Child had a regular seat at Harvest, as it was her favorite restaurant for years." It's interesting that Margie and I recall it so fondly, as it opened in 1975, a few years after we'd moved out of Cambridge. But we didn't go very far, and we've always particularly enjoyed dining in its private outdoor garden café, as we did on this occasion. We were lucky to get a reservation at Harvest, as our anniversary was on Saturday, June 28, and the restaurant shut down for renovation on June 30.
I was living in Cambridge when I met Margie in 1969, when I was a graduate student at MIT. We met via computer dating - see my blog entries entitled Data-Mate and Data-Mate (bis). Our first date was at the Blue Parrot Café, now defunct. In the early years of our relationship, we patronized many Cambridge restaurants, so we have fond memories of many of them.
These included many of the restaurants listed on the right side of the Culinary Cambridge page, particularly Legal Seafoods and Joyce Chen. At the time, Legal Seafoods was in Inman Square. The main Joyce Chen restaurant was on Memorial Drive, and we also patronized Joyce Chen's Small Eating Place on Massachusetts Avenue, a bit north MIT. We enjoyed many a Saturday breakfast at the S&S Deli and Restaurant in Inman Square, which was always mobbed (and still is).
A restaurant we enjoyed that is not featured on that page was called the Window Shop, although it closed in 1972. It made a point of employing foreign students as waiters and waitresses, and they were always fascinating to talk to. You can see an article about it in Harvard Magazine, entitled Tortes in Memory. It tells the story of a Cambridge businessman who, dining at the renowned Hotel Sacher in Vienna, was told by a waiter, "I donít recommend the Sacher torte. The only place in the world you can get a good Sacher torte is at the Window Shop in Cambridge, Massachusetts."
For our anniversary dinner this year, Margie and I shared a Braised Vermont Rabbit appetizer. Margie then had the Coffee Roasted Lamb Noisette, and I had the Rooibos Tea Marinated Duck Breast. The wine was a very nice Syrah, Qupé, Bien Nacido Vineyard, Santa Maria Valley, 2006. The dinner was excellent.
We had rather casually mentioned to the waiter, while ordering, that we were at the restaurant in honor of our 44th wedding anniversary. As a result of this, apparently, and much to our surprise, the dessert plates came out decorated for the occasion. Each plate included a lit candle, protected by an inverted wine glass as it was carried to our table. But after the wine glasses were removed, the flames didn't last long in the breezes of the garden.
I thought we would share a desert, but Margie couldn't bear to part with half of her Caramel Crème Brûlée (Margie's a sucker for a good crème brûlée). So I had my own Key Lime Tart. You can see the desserts on their decorated plates below: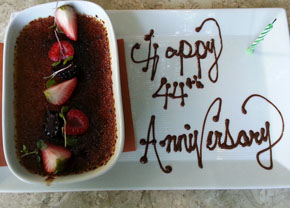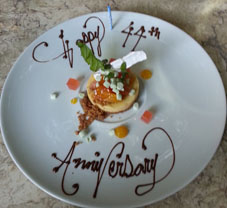 As is done in our connected world, I posted the picture of Margie seen above to my Facebook page, and Margie posted a picture of me to her Facebook page. As a result, we received a flurry of congratulations from many of our Facebook friends over the next few days.
You can see pictures of our June wedding in my anniversary blog entry from two years ago, called, of course, Forty-two years. Our wedding was held outdoors at my parents' house. There were actually three late June weddings there, on June 26, 27, and 28, each on a Sunday, but in different years:
6/26/55 Barbara Lieberman and Bill Krakauer
6/28/70 Margret Berman and Lawrence Krakauer
6/27/76 Phyllis Krakauer and Peter Jeswald
Our anniversary dinner a year ago was described in my blog entry Forty-three years. At the end of that dinner, we were surprised to find ourselves being treated by our son-in-law Ryan, our daughter Elissa, and (theoretically) our granddaughter Darwin, who had managed to pick up the tab remotely. While we were delighted by that turn of events, we didn't want to impose upon Ryan and Elissa again this year, so we carefully kept our dinner location secret.
The following day, though, Ryan surreptitiously slipped his credit card to the waiter at the end of a meal at Naked Fish, thereby beating us to the check, and treating us to an anniversary lunch.
It's hard to believe it's been 44 years.

#0237 *FAMILY2
Next in blog
Blog home
Help
Next in memoirs
Blog index
Numeric index
Memoirs index
Alphabetic index
© 2014 Lawrence J. Krakauer Click here to send me e-mail.
Originally posted July 3, 2014