#0150


The Italians
Heaven is where
the police are British,
the cooks are French,
the mechanics are German,
the lovers are Italian,
and it's all organized by the Swiss
Hell is where
the police are German,
the cooks are British,
the mechanics are French,
the lovers are Swiss,
and it's all organized by the Italians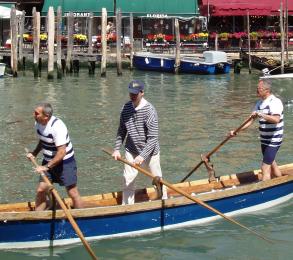 When Margie and I were in Venice, Italy in 2006, we spoke with a photographer who was taking pictures of the motley assortment of rowers we had seen around Venice during our stay.
Some were rowing standing, gondolier style, as shown in the photo to the left (click on it to see a larger version, and return with your "Back" button). Others rowed more conventionally. Some were in costumes, and there was a varied assortment of different types of boats. The photographer informed us that they were all preparing for an annual set of races called the "Vogalonga", featuring various types of human-powered craft.
She just happened to mention that this meant that on Sunday, the Grand Canal would be closed! We were rather astounded to note that there were no visible announcements of this event, which would clearly affect the entire city.
And it would certainly affect us, since we were scheduled to take our heavy luggage to the train station at around noon. Well, apparently not on a vaporetto, nor on a water taxi. Inquiries at our B&B confirmed the photographer's information, although they hadn't thought it worthwhile to inform us of it. An inquiry at the Rialto vaporetto stop confirmed that the vaporetti and the water taxis would stop running on Sunday at 7:30 am. Note 1
This episode struck me as typical of Italy, where there's a certain "What the hell, people will manage" attitude. In discussing it with an Italian man, when I suggested that there were thousands of tourists in Venice, and it might have been nice to find ways to notify them of the disruption this event would cause, he replied something to the effect of, "But that would take a lot of coordination". He rolled his eyes, as if to imply that such coordination was beyond the realm of possibility.
Remember, we had only found out about this entirely by chance. A conceivable scenario would have been for us to appear at the Rialto vaparetto stop a safe half hour before our train departure, only to discover for the first time that neither the vaporetti nor the water taxis were running. At that point, it would have been impossible to make our train. Yet the trivial method of posting of signs at the vaporetto stops a few days before would have avoided this possible dilemma.
In Milan on the same trip, we wanted to visit the Peck delicatessen, but found it closed, its windows covered by steel rolling shutters. There was no sign to indicate if it was closed all day Monday, or just closed for lunch. A woman at the desk of the adjacent Hotel Spadari patiently informed us, in excellent English, that they would open at 15:00. When we noted the lack of any sign to that effect, she cheerfully said, "That's OK, people can just come in here and ask me". Well, OK, but in fact we had asked several other people before we had gotten to her.
As the shutters on the Peck were retracted, a sign giving the hours of operation came into view on the window. It turns out Peck is closed Monday mornings, but of course, when it is closed and the shutters rolled down, you can't see the sign. Didn't this problem occur to anyone? Couldn't they have found a place to put the sign outside the shutters?
Margie and I just got back from 2½ weeks driving around the island of Sicily. We love traveling in Italy. The people are warm and friendly, there are interesting things to see, the food is good, and the language is musical. And who but the Italians could have taken a single simple food, pasta (which literally means "paste"), and turned it into nearly 100 "different" foods, largely by forming it into different shapes?
At the end of our first full day in Italy, we had dinner at the Ristorante Malvasia in Taormina. At the end of the meal, the chef came out of the kitchen and started demonstrating how to roll maccheroni, rolling out the dough right on the tablecloth at an adjacent table. A wire runs through the center of the dough to make the hole, after which it's pulled out. Note 2
There's a picture of the event below on the left, and then on the right, Margie giving it a try (you can click on each picture to zoom out a bit and enlarge, and then return with your "Back" button):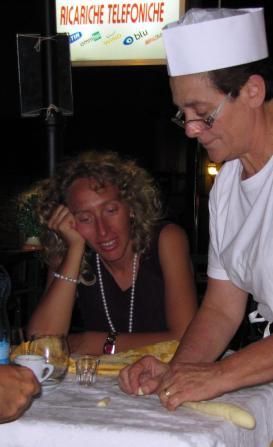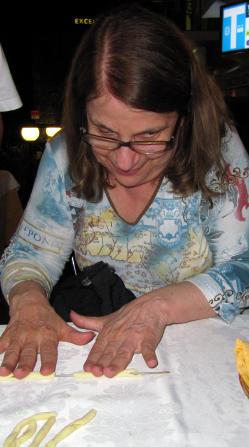 But Italian travel often does require putting up with a certain amount of disorganization. Step one, of course, was getting there. We booked a flight to Catania on the east side of the island of Sicily, booking on the Delta Airlines website because we had a credit that Delta had given to us as a result of seat assignment problems we had on an earlier Delta flight. After buying our seats online, we spent a little bit of time on the Delta site selecting our seats for each of the four flights involved.
Because of our earlier problem with Delta seats, we subsequently telephoned to verify that our seats actually had been assigned. It turned out that the flight was not really a Delta flight, but it was being operated as a "codeshare" by the Italian airline Alitalia, so we called them. In that way we discovered that Alitalia had absolutely no record of any seat assignments whatsoever. We worked with the representative on the phone to have new seats assigned, although they were not as good as the earlier ones we had selected on the Delta website.
The morning of our departure, I received a couple of e-mail messages from Delta announcing that we could now check in online for our flights. I clicked on the link they gave which read "Print boarding Pass", and was taken to an Alitalia website. Unfortunately for most American customers receiving these e-mails, the website was entirely in Italian. I could see no link to click on to change the site to English.
That's okay, I speak Italian, so I proceeded to follow the instructions to print my boarding pass. But after entering all the required information exactly as requested, it simply didn't work.
Then, when we showed up for the flights, it turned out we again had no seat assignments. I pointed out to the Alitalia representative behind the desk that we had been given the seats over the phone by Alitalia itself, months in advance. She mumbled something about Alitalia having more than one computer system, and the systems not talking to each other. We were assigned entirely different seats, fortunately together.
Actually, there was another amusing incident during our check-in. While we were talking to our original representative, a woman she had been dealing with earlier appeared, and complained about something. Our representative, without a word to us or anybody else, dashed off to take care of whatever that problem was. We grabbed the Alitalia rep to our right as soon as she was done with the client she had been dealing with, and continued our check-in. As we completed it, the original rep returned, as if nothing unusual had happened, without saying a word to us at all. Actually, I'm not sure she even remembered that she had been working with us before she had dashed off.
And then, of course, the same thing happened on the way back. We phoned Alitalia shortly after we arrived in Palermo, to once again discover that we had no seat assignments. We worked with the representative on the phone to get seats assigned. And then, when we arrived at the airport, the representative behind the counter initially was unable to find our reservation at all, even though I was carrying a piece of paper with the Alitalia confirmation number on it. Then when she did find it, we once again had no seat assignments, even though they had been given to us by an Alitalia telephone rep a mere two days before.
The representative's attitude seemed to be, well it doesn't show up on my computer, so what do you expect me to do? She didn't seem at all embarrassed by this. From my point of view, she was, without apology, looking me in the eye and saying, "We're completely incompetent here."
The flights themselves were all fine. We had decent legroom, and actually the meals were pretty good, for airline meals.
It's hard to remember all the minor insanities we encountered on this particular trip to Italy, but I'll mention a couple more. We took a cable car ride from the city of Trapani up to the adjacent town of Erice, high up on a steep mountain originally of volcanic origin (the cable car is called La Funivia Trapani-Erice).
Before driving to the cable car base station, I checked on their internet site to verify their hours, and I immediately hit a problem. Right at the top of the page, it said, in Italian, of course, "Monday 8 October, closed for maintenance". It looked as if we'd have to drive up. But when I mentioned this at the hotel desk, the staff was certain that the maintenance was only done in the morning, and they'd open at 1:00 PM.
Now, "Monday 8 October, closed for maintenance" seemed pretty definitive to me, so I went back up to my room, and phoned them. And sure enough, I was told it would open at 13:00.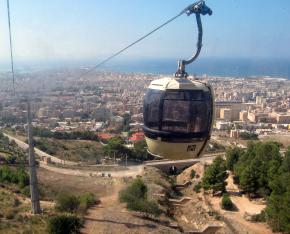 Since coming home, I've returned to the website from time to time, and it seems clear that what they have in mind in that very prominent line at the top of the page is, "What is the status of the funivia right now", and they didn't intend anyone to read the line as meaning that it would be closed all day. Nevertheless, I'd bet that many people would, like me, interpret it that way.
In any event, as you can see to the right, we did get to ride up. When we got to Erice we went to the tourist office to get a map of the town and other information about things to do during our visit.
But the tourist office had closed for lunch. In fact, it closed at 1 PM, the exact hour the cable car began its operation that day. Italian coordination at work.
One can't really generalize about an entire country, of course, but obviously that hasn't stopped me (or anyone else). And poor communication and disorganization is hardly limited to Italy. For example, you'd think that by now Delta Airlines might have noticed that there's no use assigning seats on Alitalia flights, since Alitalia will ignore them.
The Italians have a lot of pride in their country and their history. After all, they're the Romans, and they once ruled over all of Western Europe, the Middle East, northern Africa, and England. But the impressive remains of the Roman Empire, which can still be seen in Sicily and elsewhere, make me think that the Romans must have once been considerably more disciplined than the modern Italians.

#0150 *ITALIAN *LANGUAGE
Next in blog
Blog home
Help
Next in memoirs
Blog index
Numeric index
Memoirs index
Alphabetic index
© 2012 Lawrence J. Krakauer Click here to send me e-mail.
Originally posted October 18, 2012

Footnotes (click [return to text] to go back to the footnote link)
Note 1: For those unfamiliar with Venice: a "vaporetto" (plural "vaporetti") is a motorized boat that serves as a public bus in Venice. They're so named because they used to run on steam (in Italian, "vapore"). [return to text]
Note 2: Here's an interesting web page called The Geometry of Pasta, which shows you the shapes of 78 different pasta forms. The chef called the one she made "maccheroni", but it was more like the "maccheroncini" ("little maccheroni") of that web page, in that it had a smaller central hole than conventional maccheroni (the source of the English name "macaroni").
Here's a YouTube video on How to Make Busiati, a similarly formed pasta, only with a spiral around the central wire (which is removed, of course, before cooking). We saw busiati frequently in Sicily. Here's an on-line recipe for Busiati with Trapani pesto, a dish we ate in Trapani itself. It was often made with crushed pistacchio nuts instead of almonds.
By the way, in reading this page, remember that in Italian, "ch" or "cch" is ALWAYS pronounced like a K - no exceptions. Thus "maccheroni" is "mak-ay-ROH-nee", and "pistacchio" is "peess-TAHK-ee-oh (and "bruschetta" is "broo-SKETT-ah"). Think of the Italian word "scherzo" ("SCARE-tsoh"). [return to text]