#0098


The Costco effect




The Costco effect: Buying more than you want

because it's cheaper than buying only what you need.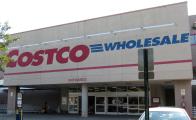 We are members of the Costco warehouse store, and do a lot of our shopping there. The Waltham store that we use is shown in the photograph to the left. It's Costco's philosophy to sell only in large quantities. I think that they may get discounts in their purchasing by promising to only sell in bulk. Their prices are often excellent. But we sometimes have a problem with what I've come to call "the Costco effect". Note 1
This is particularly a problem with food, since there are only two people in our household. Often, the size of a Costco package is larger than we will be able to eat before the contents spoil. We can instead buy only what we need in the Whole Foods market in our town, but sometimes the Costco price is so low that we can buy twice as much as we need at Costco for half the price that we would pay at Whole Foods for the actual amount we want. Thus, strictly from a cost-effectiveness point of view, our best choice is to buy at Costco, and ultimately throw away half of what we buy (it's not always possible to find somebody to share it with). This seems unfortunate, particularly when dealing with food, but strictly from an economical point of view, it's the best thing to do.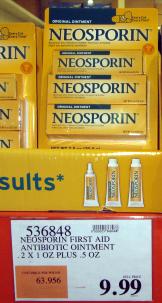 The picture to the right illustrates the Costco effect with a nonfood item: the topical antibiotic ointment Neosporin. In a typical example of Costco packaging, they put together two 1-ounce tubes and another half-ounce tube for just under $10.
Now, Neosporin is used in extremely small quantities to treat small cuts and abrasions. Even if you were treating the cuts of a family of ten hyperactive children, you'd be hard pressed to use up even one tube of Neosporin before its expiration date. Unless you're buying for a large day care center, it's hard to imagine anyone who would really want the quantity of Neosporin put together in this package by Costco.
But a single 1-ounce tube of Neosporin at our local CVS pharmacy costs $9.29. We'd be tempted to purchase the Costco package even though in all likelihood we will end up throwing most of it away. That's the Costco effect.
The large size of Costco products has not gone unnoticed by others. The New Yorker magazine once ran a cartoon that showed a man flossing his teeth with floss from a yard-long spool hanging on his bathroom wall. The cartoon has the caption "Costco Floss" (click that link to see it, and you can even buy a copy from the New Yorker store). While that's a joke, I do in fact buy my dental floss dispensers from Costco, six to the package. And as pointed out by my cousin Steve, a 2007 article in the New York Times used the term "The Costco Effect", although with a slightly different definition (as noted in footnote 1).
The Costco effect is hardly limited to Costco. We just got back from a vacation in which we spent two weeks in the tourist oriented town of Sarlat, in the Dordogne region of France. The town has a great many restaurants, and almost all of them offer multiple fixed price "menus", in addition to à la carte selections.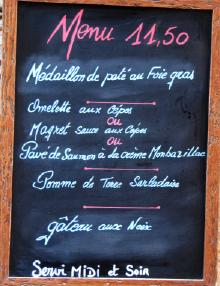 The picture to the left shows a typical "prix fixe" menu, at 11.50 €. The third main course selection is Pavé de Saumon à la Crème Monbazillac (a salmon dish). But alongside this menu, the à la carte menu is also posted (not shown). It contains the same salmon selection if ordered by itself, at a price of 13 €.
Obviously, the cost-effective thing to do is to order the fixed-price menu, even if you really don't want to eat all four courses. One reason you might not want to eat all four courses every day in Sarlat is because the menu includes Pommes de Terre Sarladaises. It's a delicious and popular local potato dish made with goose fat. One can put on a lot of weight in this way.
The menu shown is just one example of the sort of fixed-price menu that could be found all over Sarlat. Evidently, we can find the Costco effect even in La Belle France.
Eating more than you want because it's cheaper than eating only what you need - the Costco effect.
Airline pricing provides another example. The great American humorist Dave Barry once joked that airlines must have employees whose job it is to make sure that no two people on an airplane are paying the same fare. Years ago, the company I worked for was quite creative in attempting to reduce their quite extensive travel expenditures.
Airline pricing was designed to get the maximum amount from business travelers, while trying to fill out the rest of the plane with vacationers. For the latter, they offered relatively inexpensive round-trip travel as long as there was a Saturday stay-over at the destination. Business travelers generally travel during the work week, and don't like to have to stay over a weekend. This led the company to save money by buying tickets called "back-to-backs".
Here's how it worked. Suppose an employee needed to fly from Boston to Houston on a Tuesday, returning on Thursday. The company would buy a round-trip ticket from Boston to Houston on Tuesday, returning the following week. Since this round-trip ticket had a Saturday stay, it would be very inexpensive. The company would then buy a round trip ticket from Houston to Boston on Thursday, again returning to Houston a week later. In general, the two round-trip tickets with Saturday stays would together be cheaper than a single Tuesday–Thursday round-trip without a Saturday stay. The company would simply throw away each of the return tickets. Occasionally someone could be found to use them who was traveling in the opposite direction, but that didn't usually work out (especially later when tickets became nontransferable).
It was cheaper to buy four flights, and throw away two - the Costco effect!
Of course, the airlines got wise to this technique, so after a while, they started programming their computers to catch these events. They would then send a letter stating what the net effect of your flights had been, and they would back-bill the company for the difference between the price of that flight and what we had already paid. They said that what the company had done was, "a violation of our tariff". Not wanting to get involved in potential legal action, the company would simply pay up.
Hence the next time, the company tried to make it more difficult for the airline to figure out what had happened. The company continued to use "back-to-backs", but booked each of the directions on a different airline. For example, the round-trip from Boston to Houston (returning the following week) might be booked on American Airlines, and then the round-trip from Houston to Boston (returning the following week) might be booked on Delta Airlines. While each of the airlines could detect that the return part of the trip had not been used, they were not able to put together the whole picture. This worked for a while, until the airlines started trading information, after which back-to-backs were no longer usable.
Another company trick was called "hidden city ticketing". In an effort to attract people who had been using other airlines on particular routes, an airline might offer an especially low rate to a specific city. I recall bargain rates being offered once, for example, from Boston to Milwaukee, Wisconsin. The flight stopped on the way in Chicago. Since the flight was basically from Boston to Milwaukee, when using this technique, Chicago was referred to as the "hidden city".
Suppose the company wanted to send an employee to Chicago. In that case, they could buy a bargain-rate ticket to Milwaukee, but the traveler could simply get off in Chicago. The airline might not even notice that the traveler's seat was unoccupied from Chicago to Milwaukee. There were some complexities to this: the traveler could only have carry-on luggage, and if the airline found out that the second part of the ticket was not used, they were apt to cancel the rest of the itinerary. Nevertheless, with care, the company was able to make use of hidden city ticketing. It was cheaper to buy a ticket for two flights, and not use one of them - the Costco effect.
Getting back to Costco, I once came across a package of printer inks in their store that bundled together all five ink color cartridges used by my Hewlett-Packard Photosmart D7360 color printer. One of the features of this particular printer is that you don't have to buy a new ink cartridge if only one of the ink colors is exhausted. Each color has a separate cartridge, and they can be bought individually. Thus if you happen to print a lot of images containing blue, you may only need to buy a blue ink cartridge. You can see the lineup of individual cartridges, as installed in the printer, in the photo just below: Note 2

So including all five colors together in a single package didn't seem to me to make a great deal of sense (I should say that the inks have an expiration date, so you don't really want to buy them too far ahead of time). I commented on this to a Costco employee, saying that given the philosophy used by the printer, packaging all the inks together wasn't logical. Without hesitation, he replied, "It's the Costco way".


#0098
Next in blog
Blog home
Help
Next in memoirs
Blog index
Numeric index
Memoirs index
Alphabetic index
© 2011 Lawrence J. Krakauer Click here to send me e-mail.
Originally posted September 29, 2011, updated October 13 to link to a New York Times article

Footnotes (click [return to text] to go back to the footnote link)
Note 1: I've always used the term "The Costco effect" as I defined it above, "Buying more than you want because it's cheaper than buying only what you need." This refers largely to the way Costco packages all their products in bulk quantities.
But upon seeing this entry, my cousin Steve Krakauer pointed out that the term was previously used in a New York Times article in which it had a broader meaning: the tendency of shopping at Costco to encourage impulse buying. The article, dating back to January 28, 2007, has the long and descriptive title "24 Rolls of Toilet Paper, a Tub of Salsa and a Plasma TV" [return to text]
Note 2: Most color printers seem to get away with only three ink colors, and indeed in classical color theory, only three "primary" colors are needed. Thus Hewlett Packard's use of five inks in this printer seems odd. And their choice of colors seems absolutely bizarre. If you're going to have five colors, you'd expect them to be quite different from one another. But there really are in fact only three actual colors used, yellow, cyan, and magenta (shown in that order left to right in the photo). The reason there are five inks is that there's both a "light cyan" and a "dark cyan", and a "light magenta" and a "dark magenta".
Weird. But Hewlett Packard is an expert in printers and color theory, and I'm sure they know what they're doing. And the printer produces excellent color photographs.
By the way, in case you're wondering why all the color cartridges don't seem to be the same width (the light cyan and light magenta cartridge handles are narrower): the cartridges can be purchased in two capacities, which is indicated by the width of the handle. [return to text]