The Original Timeclock
But I can always take pride in that very first timeclock I built for Kronos. This sucker was built way back in 1979, nearly twenty years ago, and yet it can be set forward into the year 2000! Remember? Joe LeLievre found it for me. Now, Y2K Compliance definitions say it's compliant if it does the same thing in 2000 that it did in the 1900s. I've already set it to the year 2000; let's stick in a card.
[A clamping noise is heard, and a buzz.]
The solenoid locked up again; so far, so good.
[Pulls the card from the clock in flames; holds it up]
Yup, just what it did in '97! Alright!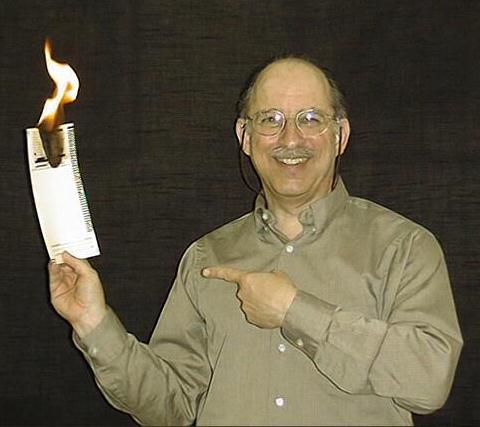 If it's the same bug regardless of century, then it's a bug, but it's not a Y2K bug! And that's just what it did when I spoke to you two years ago, right? You guys saw it!
[Douses the card in a pitcher of water]
OK, Joe, it's compliant. Ship it!